Andrew Sullivan Returns to Blog: 'I Never Believed This Would Happen in My Lifetime'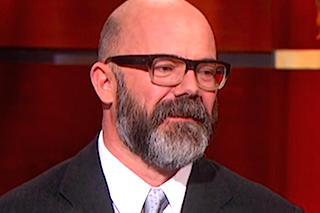 In his first blog post in nearly five months, Andrew Sullivan has emerged from semi-retirement to celebrate today's historic Supreme Court ruling that legalized same-sex marriage in all 50 states.
Earlier this year, Sullivan, who has been a leading voice in the first for marriage equality, announced that he was giving up his daily blogging habit for The Daily Dish, a site he made independent following stints at Time, The Atlantic and The Daily Beast. But today's big news was just too momentous for him to ignore.
In the new post, Sullivan reflects on the "isolating days" in which no one took his calls for marriage equality seriously.
He writes:
I recall all this now simply to rebut the entire line of being "on the right side of history." History does not have such straight lines. Movements do not move relentlessly forward; progress comes and, just as swiftly, goes. For many years, it felt like one step forward, two steps back. History is a miasma of contingency, and courage, and conviction, and chance.

But some things you know deep in your heart: that all human beings are made in the image of God; that their loves and lives are equally precious; that the pursuit of happiness promised in the Declaration of Independence has no meaning if it does not include the right to marry the person you love; and has no force if it denies that fundamental human freedom to a portion of its citizens.
"I never believed this would happen in my lifetime," Sullivan adds later, looking back at his first writings about the issue for The New Republic. "I never for a millisecond thought I would live to be married myself. Or that it would be possible for everyone, everyone in America."
"But it has come to pass. All of it. In one fell, final swoop," he concludes. "Know hope."
Read the full post at dish.andrewsullivan.com.
[Photo via screengrab]
— —
>> Follow Matt Wilstein (@TheMattWilstein) on Twitter
Have a tip we should know? tips@mediaite.com