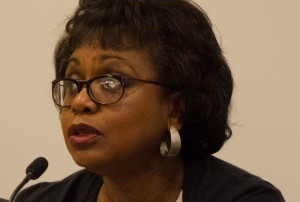 Anita Hill said that Fox News should withhold the $40 million the network's founder Roger Ailes is reported to have pocketed as severance following a smattering of sexual harassment allegations.
"It seems to me that that sends a very bad signal, and in fact if the allegations are proven to be true, then certainly not only has he violated the law but I would also say that he has actually injured the company in a way that would keep him from being entitled to a severance pay," Hill told NPR in an interview published Wednesday.
Hill rose to national prominence in 1991 when she testified in Senate hearings that Clarence Thomas had sexually harassed her. Thomas was confirmed to the Supreme Court, but Hill's testimony brought workplace sexual harassment into the national consciousness.
She told NPR's Steve Inskeep:
In 1991, people started talking publicly about it. Women as well as men started talking about what they had experienced in the workplace, what they had witnessed in the workplace, and I think it changed the public perception of women who had been brave enough to step up and come forward, and it exposed a lot of the ways of trashing women that are routinely done when women do come forward.
Ailes was ousted from Fox News after former anchor Gretchen Carlson filed a lawsuit against him alleging a pattern of sexual harassment going back years. Since then multiple women at Fox have stepped forward to corroborate Carlson's allegations with their own stories. Fox launched its own internal investigation into the matter and is reportedly looking to settle Carlson's suit.
You listen to the Hill interview on NPR here.
—
[photo: Tim Pierce, via Wikicommons. CC BY 2.0]
Sam Reisman (@thericeman) is a staff editor at Mediaite.
Have a tip we should know? tips@mediaite.com