Why is Fox's Melissa Francis Freaking Out Over Why Warren is 'Allowed' to Tweet About Trump?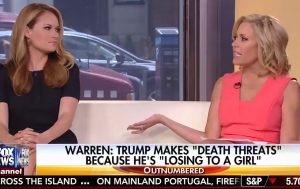 Today on Fox's Outnumbered, guess what they were talking about? The same thing everyone else has been talking about, of course! The ladies of the panel debated whether or not Donald Trump called for Hillary Clinton to be shot yesterday when he made a comment about the Second Amendment.
Senator Elizabeth Warren took her turn publicly musing about the incident yesterday when she tweeted about Trump not being happy "losing to a girl," and that really set Melissa Francis off. Seriously, even though Warren has been really vocal through this entire election, it was these two little tweets that made Francis furious.
She repeatedly asked why Warren was allowed to tweet something like that, though her reason for being so riled up by it was unclear. Geraldo Rivera suggested that Francis was upset over Clinton being referred to as a girl and not a woman, but that wasn't plainly obvious in her persistent refrain of, "Why is she allowed to tweet? Why is she allowed to say that?"
Watch the clip above to see Francis ask those questions over and over, then tell us what you think her issue with Warren's tweets is. Note that Warren has tweeted about Trump so much in the past. Seriously, why is she so mad about a Democratic senator tweeting an opinion about the incendiary comments of the Republican nominee?
Oh, and did you see the part where Kennedy observed that it really seems like Trump is trying to destroy his own campaign? What do you make of that?
[image via screengrab]
This is an opinion piece. The views expressed in this article are those of just the author.