Did We Make Him the FBI or DOJ?: Ann Coulter Blasts Trump Over Hillary Decision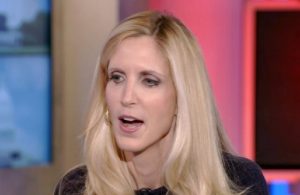 It was reported this morning that President-elect Donald Trump would not push for an investigation into Democratic presidential nominee Hillary Clinton's use of a private email server or the Clinton Foundation. This obviously is a reversal of course from his campaign rhetoric, where he said that he'd assign a special prosecutor if elected and even told Clinton during the second debate that she'd be in jail if he were POTUS.
While campaign manager Kellyanne Conway and adviser Rudy Giuliani — who is reportedly up for a Cabinet position — have come out in support of this position, other Trump supporters don't seem too thrilled about this news. Breitbart, the publication run by Trump's chief strategist Steve Bannon, published a piece calling it a "BROKEN PROMISE."
Meanwhile, conservative provocateur Ann Coulter, a fervent Trump supporter, took to Twitter to shoot back at Trump and tell him this wasn't his job as president.
Whoa! I thought we elected @realDonaldTrump president. Did we make him the FBI, & DOJ? His job is to pick those guys, not do their jobs. https://t.co/8JCQOO0dSF

— Ann Coulter (@AnnCoulter) November 22, 2016
As happy as I am that our long national nightmare's over, NO president shld be blocking investigators from doing their jobs. #EqualUnderLaw https://t.co/8JCQOO0dSF

— Ann Coulter (@AnnCoulter) November 22, 2016
Coulter has previously called out Trump before when she feels he has backed away from his promises and positions. Back in August, she said it was a mistake for Trump to soften his stance on immigration.
[image via screengrab]
–
Follow Justin Baragona on Twitter: @justinbaragona
Have a tip we should know? tips@mediaite.com