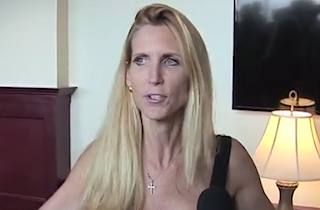 The Heritage Foundation's new media operation The Daily Signal launched this month, and this week they released a short interview with Ann Coulter that summed up why she thinks both Democrats and Republicans are dead wrong on immigration.
When asked what sort of funding she would support to combat the current border crisis, Coulter answered, "Nothing he is suggesting," referring, of course, to President Barack Obama.
"He may as well take his $3.7 billion and have a big bonfire, that would be better," she said.
In Coulter's view, Obama wants to "make it easier" immigrants to come here and "these idiot Republicans" who think we should have "passed amnesty" are no better.
She continued (emphasis added):
"Do they understand that people are coming to this country because they think they're going to get amnesty? So only if only we had given amnesty. It's not even a illogical, its counter logic. It's the opposite of logic, it's madness. No. We want a barbed wire fence. I want the same fence that Israel has. Let's start with that. I'd like the same fence Israel has, and we just have to get rid of this refugee policy. What are we going to do, take in the entire world? All countries suck compared to America. Is that the standard?"
Coulter said those who who are worried about the conditions in other parts of the world "don't seem to think this country's so hot either," given their belief in racism, the War on Women and plutocrats. "Don't let anyone come here then, it's an awful country!" she said, smiling to herself.
Her solution to the current situation, which finds scores of women and children in detention camps along the border? "Retroactively repeal the law and send them home."
Watch video below, via Daily Signal:
[h/t RCP]
[Photo via screengrab]
— —
>> Follow Matt Wilstein (@TheMattWilstein) on Twitter
Have a tip we should know? tips@mediaite.com