The main website associated with the Ku Klux Klan was targeted and brought down by hackers from the groups Ghost Squad and Anonymous as part of the ongoing #OpKKK war. Sunday's DDoS attack (distributed denial-of-service) shut down the site at some point Sunday, which as of this publishing, remains offline: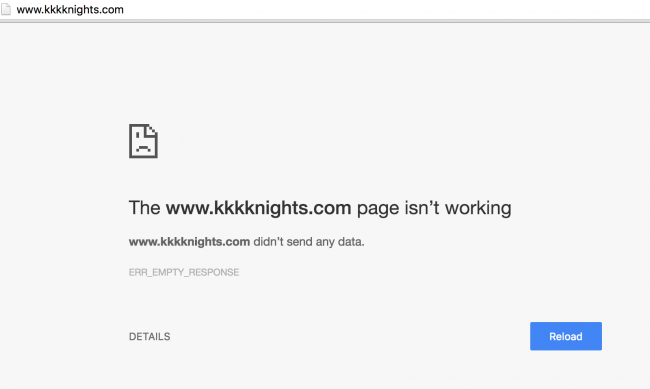 In an interview with HackRead, one of the hackers said:
"We targeted the KKK due to our hackers being up in their face, we believe in free speech but their form of beliefs is monolithic and evil. We stand for constitutional rights but they want anyone who is not Caucasian removed from earth so we targeted the KKK official website to show love for our boots on the ground and to send a message that all forms of corruption will be fought. We are not fascist but we certainly do not agree with the KKK movement. They are the Fascists and they are the Racists."
In November, Anonymous and its affiliates released the identities and social media pages of nearly 1,000 Ku Klux Klan members. The group said at the time, "We defend free thought and free speech. The anons responsible for this operation will not support *acts* of terrorism and *acts* of hate inflicted upon the public."
#HoodsOff: @Operation_KKK Releases 500+ Names & Identifies of KKK Members https://t.co/OSuKLhYW4j #OpKKK pic.twitter.com/ZzM4GRpe42

— Anonymous (@YourAnonNews) November 6, 2015
Hackers from BinarySec are also engaged in a firm cyber battle against the Islamic State, shutting down ISIS websites through similar DDoS attacks and targeting social media accounts of known ISIS fighters and sympathizers. "[P]art of OpKKK is bringing attention to the fact that these groups are not dead and are in fact finding a new life online," said one in on Twitter.
HackRead published the following screenshot demonstrating that the main site for the KKK was still inaccessible worldwide:
—
J.D. Durkin (@jiveDurkey) is a columnist at Mediaite.
[image via Wikipedia Commons]
Have a tip we should know? tips@mediaite.com