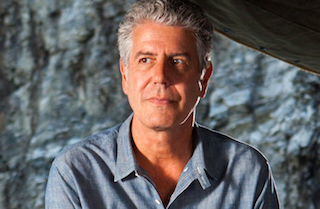 Anthony Bourdain may have no interest in being CNN's savior, but he does have a lot of strong opinions when it comes to cable news. When Bourdain spoke to our own Andrew Kirell earlier this year, he said it "irritates" him to "see people shrieking at each other at high volume" on cable news. During an hour-plus long conversation with Chris Hardwick on The Nerdist podcast released Monday, he expanded on those comments, singling out MSNBC in particular as "shrieking" to the choir.
Bourdain said that on his show, as well as in his life, he applies the same principle whether he's talking to a rice farmer in Cambodia or right-wing rocker Ted Nugent. "I disagree with Ted Nugent as violently and as much as anyone could disagree on just about everything," he said. But given the fact that they like barbecue, Bourdain said Nugent is "fun to hang out with in spite of the fact that he says appalling shit that offends the hell out of me."
"I don't have to agree with you to enjoy your food, or like you, or even respect you," he added.
Hardwick said that what he sees in general is people being "dismissive" of those with whom they disagree, an attitude Bourdain said he found "intolerable and unforgivable." As a "New York liberal," he may be conditioned to not like "red state America" where everyone has Sarah Palin stickers on their cars, he said he actually has a great time in those places and finds a way to get along with the people who live there.
Bourdain contrasted that attitude with the one he sees on networks like MSNBC. "I hate preaching to the converted," he said. "A nightmare would be for me to sit in a room where everybody totally agrees with everything I say."
"You know, MSNBC, it's like every show they're saying 'look at what these stupid Republican morons did today,'" Bourdain continued. "I'm guessing there aren't a lot of Republicans watching that channel. You're not changing hearts and minds that way, it just seems kind of pointless to me, to shriek at each other that way, especially on issues like guns."
"There's some common ground to be had and I just don't think that kind of shrieking is helpful," he said. And if talking through the issues doesn't work, he said he wished people who disagree would at least "have a beer together, eat some fucking barbecue, listen to some Lynyrd Skynyrd, and fucking relax dude, you know?"
Listen to audio below, via Nerdist:
You can hear the full conversation with Bourdain at nerdist.com.
[Photo via CNN]
— —
>> Follow Matt Wilstein (@TheMattWilstein) on Twitter
Have a tip we should know? tips@mediaite.com