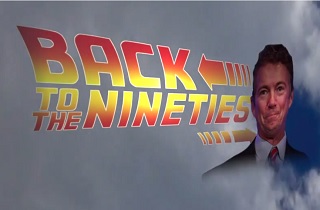 Progressive super-PAC American Bridge is out with a new web ad that takes on Sen. Rand Paul's (R-KY) attempts to attack former Secretary of State Hillary Clinton over things her husband did when hacky-sack was still a thing. The ad makes snarky use of the film Back to the Future, and 90's artifacts like the Macarena, but misses an opportunity to play Skynet to Paul's Marty McFly.
The add is from American Bridge's Correct the Record 2016 site, a "dedicated research and rapid response communications project to prevent Republicans from denigrating potential Democratic candidates with baseless attacks, while potential Republican candidates reinvent themselves and their records without scrutiny."
The web spot doesn't so much correct the record, in this case, as it does remix it with some appropriately retro flayva:
Does it make Rand Paul look ridiculous? Maybe, but not nearly as ridiculous as Paul has made himself look in trying to reach out to women by blaming Hillary Clinton for her husband's sexual misconduct. It also makes you wonder who was influencing Rand Paul in the 90s.
Now, like Joe Scarborough, I would never bring this up in a gazillion years, but since Rand Paul brought up the 90s, doesn't the media also have a duty to hold Rand Paul accountable for the racist newsletters that Ron Paul sent out during that storied decade, and the one that preceded it?
The senior Paul has issued an evolving series of explanations and denials, but no one disputes what was in those newsletters (things like "Boy, it sure burns me to have a national holiday for that pro-communist philanderer, Martin Luther King. I voted against this outrage time and time again as a Congressman. What an infamy that Ronald Reagan approved it! We can thank him for our annual Hate Whitey Day."), or that they were published by Ron Paul. Surely, Rand Paul's father has at least as much influence on him as a husband has on a wife, or even more. Whatever it was that caused Ron Paul to publish those newsletters, his son was exposed to it for much longer than Bill and Hillary Clinton have been married, and at a much more formative age.
Again, I wouldn't bring this up in a gazillion years, but if Monica Lewinsky is "fair game," then surely, these newsletters are.
Have a tip we should know? tips@mediaite.com