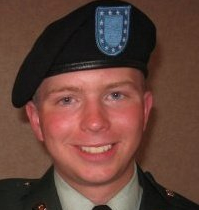 Wired is reporting that an Army intelligence analyst who apparently "boasted of giving classified U.S. combat video and hundreds of thousands of classified State Department records" to the whistleblower site has been nabbed by federal officials.
You will recall that Wikileaks made national, and controversial, headlines in March when it published edited video of the US Military killing 12 individuals in Iraq, two of whom were revealed to be staff members of the Reuters news organization. Wikileaks founder Julian Assange later appeared on Stephen Colbert to defend the publication of the video. More from Wired:
SPC Bradley Manning, 22, of Potomac, Maryland, was stationed at Forward Operating Base Hammer, 40 miles east of Baghdad, where he was arrested nearly two weeks ago by the Army's Criminal Investigation Division. A family member says he's being held in custody in Kuwait, and has not been formally charged.

Manning was turned in late last month by a former computer hacker with whom he spoke online. In the course of their chats, Manning took credit for leaking a headline-making video of a helicopter attack that Wikileaks posted online in April. The video showed a deadly 2007 U.S. helicopter air strike in Baghdad that claimed the lives of several innocent civilians.
[…]
"Hillary Clinton, and several thousand diplomats around the world are going to have a heart attack when they wake up one morning, and find an entire repository of classified foreign policy is available, in searchable format, to the public," Manning wrote.
Yes indeed. Or not. Manning was turned in after he contacted a former hacker Adrian Lamo, who had worked in the past with Wikileaks. Lamo told Wired he had agonized over the decision and that he "wouldn't have done this if lives weren't in danger." There's no word yet on what charges Manning may face.
Related: U.S. Intelligence Analyst Arrested in Wikileaks Video Probe [Wired]
Have a tip we should know? tips@mediaite.com