As Her 'Man In Iowa' Predicts She'll Run In 2012, Sarah Palin Reacts To Bristol's Morning Show Revelation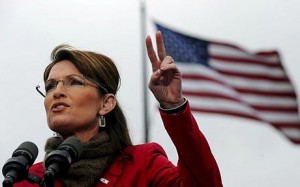 At last night's Iowa premiere of The Undefeated, the documentary on Sarah Palin, her so-called "man in Iowa," lawyer Peter Singleton, told a reporter for UK's The Telegraph that it would be "unthinkable" to suggest Palin wouldn't run for president in 2012.
Palin's visit to Iowa has prompted a new wave of questions about her presidential aspirations, as some in the state have suggested she would be taking the opportunity to meet with certain caucus-goers.
Singleton, who is the driving force behind Organize4Palin, told the British paper that now is the ideal time for Palin to run:
She's the right person at this time. If you look back at Churchill's time, in 1938 Churchill was unelectable, in 1940 he was indispensable.

I can't see her sitting this one out. The stakes are too high. It goes back to 1940. Can you see Churchill sitting it out? It's unthinkable. Can you see George Washington in 1776 sitting it out? Unthinkable. He wanted to be back on his farm but they said we need you to be president of the republic.
The paper also offers a revealing look at Palin's reaction to comments her eldest daughter, Bristol, made to the hosts of Fox News' Fox & Friends. You'll recall that Bristol, who is making the media rounds to promote her new book, shared that her mother "definitely knows" whether or not she'll run in 2012, but that "some things just need to stay in the family."
Palin offered her response to her daughter's "revelation:"
I texted Bristol, I said, "Honey, what did you say this morning on some news program?"

She said, "Oh, mom, you've got to watch the interview. You know how they take everything out of context." I said, "You remember Bristol what we talk about on the fishing boat stays on the fishing boat." I don't know what she said.
As for the woman at the center of all this speculation? Palin is still keeping mum about her plans.
h/t The Telegraph
Have a tip we should know? tips@mediaite.com