As Pollster Reveals His Knowledge Of Cain's Behavior, Accuser's Lawyer Says She Will Not Go Public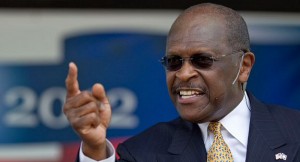 This afternoon, as you may be aware, Mark Block came forward with the accusation that Curt Anderson, a former employee of Herman Cain during his Georgia senate run, had shared the allegations against Cain with his new colleagues within Rick Perry's campaign.
RELATED: Fox News Panel Reacts To Mark Block's Allegations Against Perry: 'Who Cares?'
Now, a Perry-supporting pollster named Chris Wilson has also come forward, in his case, with details about the alleged "suggestive behavior" exhibited by Cain over a decade ago:
I was the pollster at the National Restaurant Association when Herman Cain was head of it and I was around a couple of times when this happened, and anyone who was involved with the N.R.A. at the time knew that this was going to come up.
Wilson told Oklahoma's KTOK radio station that if Cain's accuser decides to reveal the details of her claims, "it'll probably be the end of his campaign:"
It was only a matter of time because so many people were aware of what took place, so many people were aware of her situation, the fact she left- — everybody knew with the campaign that this would eventually come up.
Wilson also told The New York Times that he had nothing to do with the Politico story on the sexual harassment charges:
To be clear, and you can ask any of the reporters covering this story, I had nothing to do with leaking this in any way, and I've never discussed or shared this story with any of my clients – period.
The woman who accused Cain, however, has no current plans to go public with her story. Her lawyer, Joel P. Bennett, said his client "doesn't want to become another Anita Hill," and will instead make her statements through him.
h/t NYT's The Caucus
Have a tip we should know? tips@mediaite.com