Ashley Judd Adviser: Dems 'Duped' Media With 'False Narrative,' Pushed Judd Out Of Senate Race
Ashley Judd Adviser: Dems 'Duped' Media, Pushed Judd Out Of Senate Race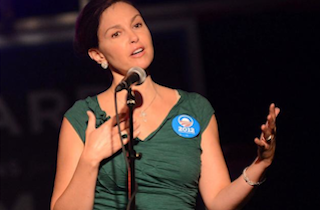 Jonathan Miller, an adviser to Ashley Judd, took to The Daily Beast on Monday to set the record straight about the highly speculated Senate bid that never was. Miller squarely places blame on a "small coterie" of Kentucky Democrats who he says "duped" the national media into buying a false narrative… thus pushing Judd out of the race.
Pointing to a "dizzying blur of false testimony," Miller notes that the national media had a "ravenous appetite" for stories about Judd. A small group of Democratic professionals, he argues, assisted in the effort against Judd in "nearly every article." The "most egregious disinformation came from entirely anonymous sources."
As an example, Miller points to a quote attributed to Judd in a Huffington Post story — "I have been raped twice, so I think I can handle Mitch McConnell" — which he says the actress never said and "would have been completely inconsistent" with the way she's discussed those experiences.
The aspect of the whole situation that Miller focuses on, however, is the narrative about a seeming split in the Democratic Party and stories about Bill Clinton trying to get Judd out of the way, favoring Kentucky's secretary of state, Alison Lundergan Grimes. In fact, he seeks to clarify, Clinton "had privately urged her to run against McConnell, offering his complete support for her prospective campaign."
Miller's argument appears to be that while Judd may not have been a perfect candidate, and there's no telling how she'd have fared against Sen. Mitch McConnell, this treatment was unfair… and ultimately will work against Democrats:
"…I imagine McConnell sitting back, watching the antics with his sly, tight grin, enjoying how a small group of Democrats duped the so-called liberal media into creating the false narrative of a Democratic civil war. Only a master politician could get so damn lucky."
Judd noted her decision not to run on Twitter last week, writing, "After serious & thorough contemplation, I realize that my responsibilities & energy at this time need to be focused on my family."
Read the full story here.
Have a tip we should know? tips@mediaite.com