Gallup: Republicans Far More Willing To Criticize Their Own Party Than Democrats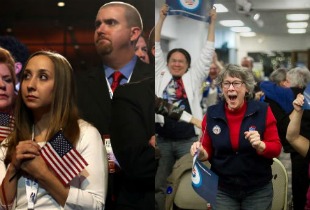 It is a rare event when Americans across the political spectrum share the same opinion on just about anything. The aftermath of the 2012 election has resulted in an exceptional moment of consensus: the Republican Party is just too "inflexible." These are the findings in a recent Gallup poll of American adults. But while Gallup found that Republicans are willing to admit that their party has more than a few flaws, the polling firm found that Democrats are much "less critical of their own party."

RELATED: USA Today/Gallup Poll: 70% Of Americans Can't Wait For The 2012 Race To Be Over
26 percent of Republican respondents, 17 percent of independents, and 22 percent of Democrats identified "unwilling to compromise" as the most apt critique of the GOP. 21 percent of all adults agreed with this criticism of the Republican Party. "Protecting the wealth, not the middle class" was the next most popular criticism of the Republican Party. 12 percent of adults agreed with this statement.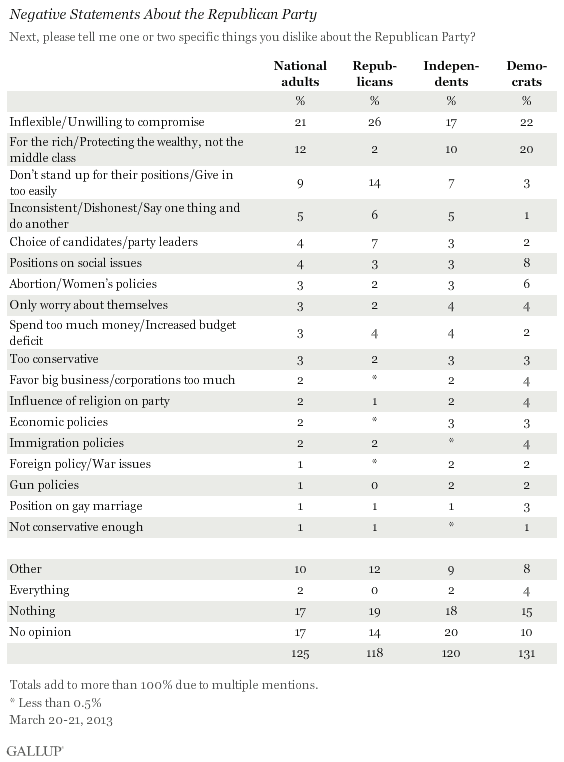 More self-identified Republicans said that their party is "inflexible" and doctrinaire. Only 14 percent of Republicans said that GOP doesn't stand up for its own values.
Gallup identifies a trend in this survey: "Republicans are much more likely to criticize their own party for its style or approach than for its substance." Just 33 percent of Republican respondents found nothing about their party worthy of criticism.
Compare this to self-identified Democrats who, following President Barack Obama's reelection victory, find little to criticize within their own party. 51 percent of Democrats either found nothing worth criticizing in their own party or expressed no opinion on the question. Just 6 percent of Democrats found their party "inflexible" or "unwilling to compromise."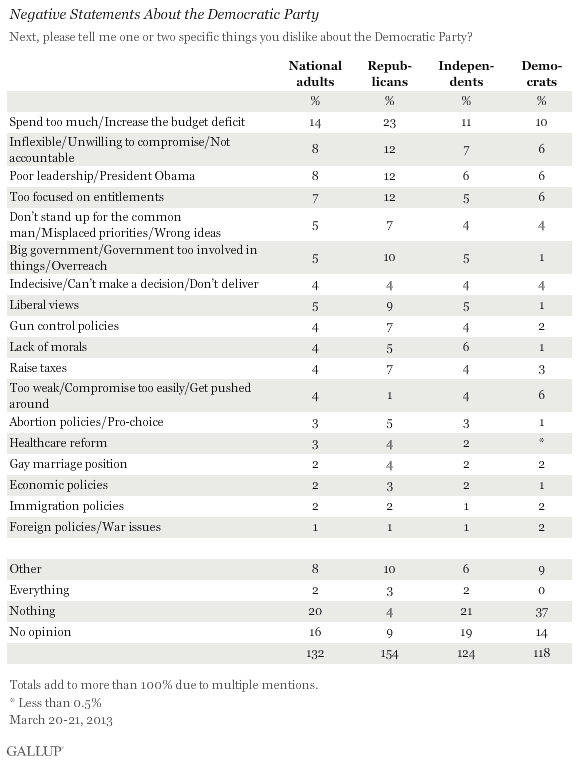 The top criticism of the Democratic Party, advanced primarily by Republicans, is that the party is committed to spending excessively and increasing the budget deficit. 14 percent of adults agreed with this statement, a total buoyed by the 23 percent of Republicans who agreed with this statement. Only 10 percent of Democrats agreed with this criticism.
This poll of 1,020 adults was conducted from March 20 – 21. The survey has a margin of error of +/- 4.0 percent.
Read the full survey results via Gallup
> >Follow Noah Rothman (@NoahCRothman) on Twitter
Have a tip we should know? tips@mediaite.com