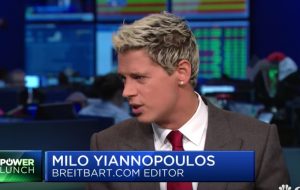 It probably isn't too much of a stretch to say that gay conservative provocateur Milo Yiannopoulos may have a hard time making friends these days. At least, friends who come from the liberal left that he has made a name out of bashing in the spirit on free speech and anti-censorship.
The Breitbart Tech Editor who moonlights as a button-pushing free thinker embroiled in controversy is featured in the newest edition of Out Magazine for an exclusive that covers his tendency to "preach, provoke, and troll." Yiannopoulos most recently spearheaded the effort to criticize Leslie Jones' turn in the Ghostbusters reboot earlier this year, resulting in throngs of anonymous users peppering the comedian with racist imagery and forcing her to delete her Twitter account.
People are not thrilled with the magazine's decision to so heavily feature a figure of controversy, regardless of his sexuality.
everyone screams "PUT QUEERS IN QUEER MAGAZINES!"@outmagazine puts a white, xenophobic, racist, misogynist gay in their magazine

— nolan (@nolanflaherty) September 21, 2016
It's one thing to critically cover someone newsworthy.

It's another to do a *quirky* photoshoot/profile of a racist, bigoted monster. https://t.co/t3x5hxXgD0

— Carlos Maza (@gaywonk) September 21, 2016
SO MANY EYE ROLLS at Out Magazine's editors note at the top of their Milo interview. You're propping him up, Out. No sugarcoating that.

— Katie Schenkel (@JustPlainTweets) September 21, 2016
Exclusive GIF footage of the Out Magazine editors' meeting greenlighting that Milo story pic.twitter.com/I02IgZcFdK

— Austin Morris (@austindotTV) September 21, 2016
hate out magazine? come read vice instead, where we don't promote milo. thankshttps://t.co/U6uroMK6nd

— tyler (@tylertry) September 21, 2016
The story — titled Send In the Clown: Internet Supervillain Milo Doesn't Care That You Hate Him by Chadwick Moore — features a sit-down and rather colorful photo shoot with the Breitbart editor, referring to him as a "professional mischief maker and provocateur."
Yiannopoulos says at one point, "Nobody should be playing the victim. Nobody should be doing this grievance, oppression bullshit malarkey. Everyone should just get on with achieving everything that they can in their lives."
The piece contains the following Editor's Note:
It should not need saying that the views expressed by the subject of this piece in no way represent the opinions of this magazine, but in this era of social media tribalism, the mere act of covering a contentious person can be misinterpreted as an endorsement. If LGBTQ media takes its responsibilities seriously we can't shy away from covering queer people who are at the center of this highly polarized election year, and we ask you to assess Milos Yiannopoulos, the focus of this profile, on his own words without mistaking them for ours.
—
[image via CNBC screengrab]
Have a tip we should know? tips@mediaite.com