Bannon Reportedly Believes Kushner Pushed Comey Firing, Priebus Should Give Account to Mueller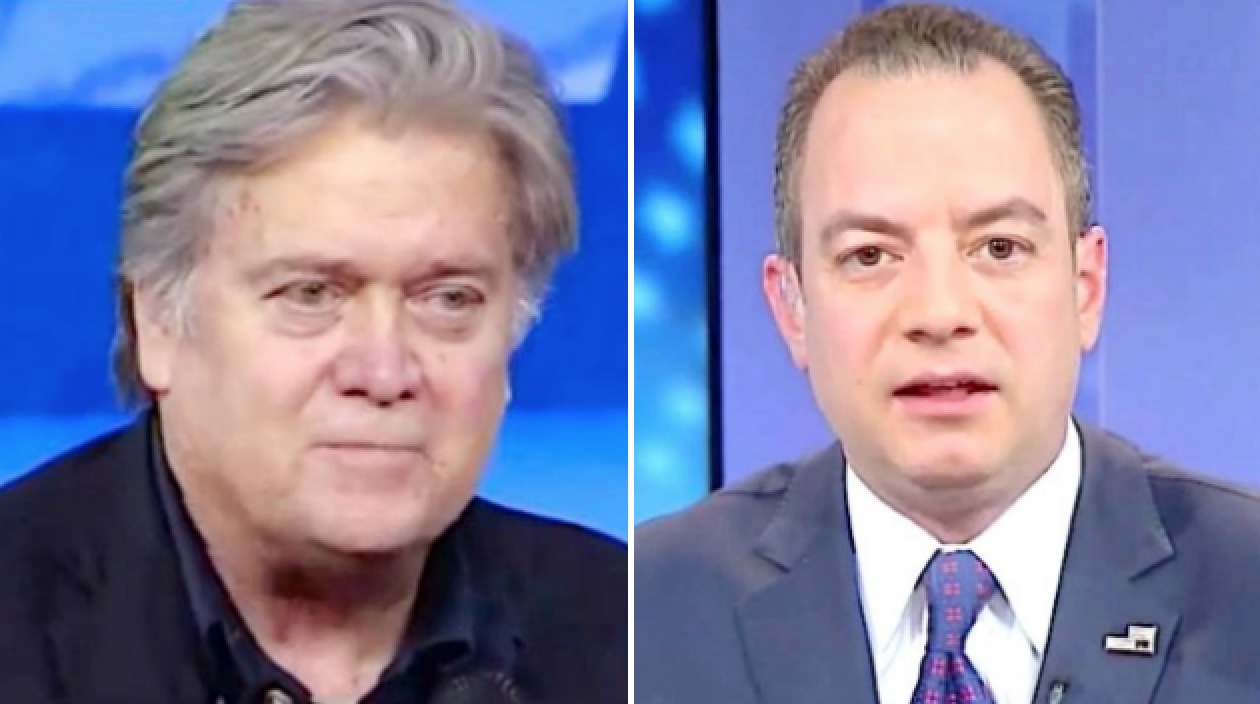 Steve Bannon may be out of the White House, but his feud with Jared Kushner carries on.
In a new report from Vanity Fair's Gabriel Sherman, it delves into the numerous clashes that occurred in the White House between President Trump's former chief strategist and his senior advisor/son-in-law. Bannon found Kushner's political instincts to be "highly questionable," calling him a "dope" says one Bannon ally.
According to a Breitbart staffer, Bannon was deeply bothered when he was being used as a "scapegoat" of being anti-Semitic in the wake of Trump's reaction to Charlottesville, adding "It's one of the attacks he takes most personally because it's not true." Other allies went into further detail about how Bannon strongly urged Trump to move America's embassy in Israel from Tel Aviv to Jerusalem and had a more forceful position on Palestinians, but was ultimately stopped by Kushner. And when Palestinian President Mahmoud Abbas visited the White House in May, Bannon stayed home, texting to a friend, "I'm not going to breathe the same air as that terrorist."
The report also goes into detail about Kushner's allies in the media, with Matt Drudge publishing anti-Bannon headlines on Drudge Report and recruiting longtime Trump confidant Rupert Murdoch to urge the president to fire Bannon, but according to Bannon's allies, they believe Murdoch joined Team Kushner after Trump didn't block Sinclair Broadcasting's $3.9 billion buyout of Tribune Media. Sinclair is seen as a growing competitor of the Murdoch-owned Fox News and Bannon is reportedly considering to starting his own network.
However, the newest revelation from the complex Bannon/Kushner dynamic involves the firing of FBI Director James Comey.
Per several sources, Bannon wants former White House Chief of Staff Reince Priebus to give his account regarding Comey's firing to Special Counsel Robert Mueller because Preibus has alleged that the weekend before the firing, the decision was made at Trump's Bedminster property with Kushner, daughter Ivanka Trump, and Stephen Miller.
While Breitbart has been seen as heavily pro-Trump, the site may turn on the president if he is overly influenced by Kushner and Gary Cohn, especially with Bannon back in charge. According to a high-level Breitbart staffer, if Trump doesn't follow through with his campaign promises, "We're prepared to help Paul Ryan rally votes for impeachment."
Have a tip we should know? tips@mediaite.com