BBC Editor Claims 'Heads Will Roll' Over Benghazi, Admits He Saw It As 'Partisan Attack' Before ABC Report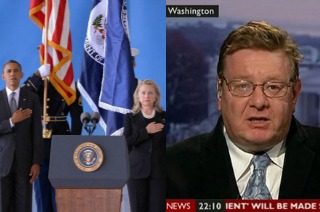 It's amazing what a little investigative reporting by a mainstream news outlet can do. Among the many intellectually honest journalists and opinion makers rethinking their reflexive dismissal of the allegation that members of President Barack Obama's administration intentionally misled the public about the true nature of the attack on an American consulate in Benghazi is BBC editor Mark Mardell. On Friday, Mardell declared that "heads will roll" over Benghazi scandal. He also admitted that he did not take the allegations of a cover-up seriously because they were coming primarily from right wing media outlets.

RELATED: ABC News Reports Benghazi Talking Points Were Revised 12 Times, Terror Reference Was Omitted
Conservatives have long maintained that the administration deliberately suppressed the truth about the attacks," Mardell wrote. "This is the first hard evidence that the state department did ask for changes to the CIA's original assessment."
Mardell declared that former Secretary of State Hillary Clinton will have to eventually confront the allegations that her department deliberately altered talking points and advanced a false narrative to explain the Benghazi attack.
"In the interests of full disclosure I have to say I have not in the past been persuaded that allegations of a cover-up were a big deal. It seemed to me a partisan attack based on very little," Mardell confessed. "I remember listening to reports from the BBC and others at the time that did suggest the attack in Benghazi was a spontaneous reaction to a rather puerile anti-Islamic video."
"But the evidence is there in black and white, unless we doubt the documents obtained by ABC, which I don't," he added.
Mr Obama's critics are often not very clear what is behind their allegations. I presume they think that the White House wanted to avoid claims the murders were the result of terrorism because this would undermine his claim that al-Qaeda was seriously "degraded". There's also a vague sense he's "soft on terror".
"This is now very serious, and I suspect heads will roll. The White House will be on the defensive for a while," Mardell concludes.
> >Follow Noah Rothman (@NoahCRothman) on Twitter
Have a tip we should know? [email protected]