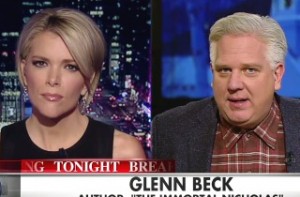 Glenn Beck used to work at Fox News, and he has some thoughts on the controversy surrounding Roger Ailes and the behind-the-scenes drama at Fox.
Beck called Ailes the "biggest reason" he left Fox, saying the Fox News Chairman & CEO is a "very powerful" man who could have been great. He shared this observation:
I always felt Roger knew I could see through him. It seemed to me that he was a man that in the dead of night knew what he had become and wondered how different it could have been. It was always very sad to think about. In someways, I hoped that I was wrong and he was truly clueless as I thought of the torment of feeling trapped in your patterns and life and not feeling able to begin again with a clean slate.
Ailes reacted to Beck's departure at the time by saying, "Half of the headlines say he's been canceled. The other half say he quit. We're pretty happy with both of them."
Beck sent his thoughts and prayers to his friends at Fox, while singling one of them out:
Who would have guessed it would be Megyn Kelly that would slay the dragon in the end. Because she is as smart as she is, she was able to build her own "brand" big enough to not be ruled by fear. Good for her for not running for or to cover.
He declared that Ailes has "become Bill Cosby" and said he had more power than people realize.
Beck said years ago that he left Fox to "save his soul." A Fox News spokesperson responded by saying, "Glenn Beck wasn't trying to save his soul, he was trying to save his ass. Advertisers fled his show and even Glenn knows what that means in our industry. Yet, we still tried to give him a soft landing. Guess no good deed goes unpunished."
[image via screengrab]
— —
Follow Josh Feldman on Twitter: @feldmaniac
Have a tip we should know? tips@mediaite.com
Josh Feldman - Senior Editor