Beck: I Would Worry About My Safety If I Were Alone With 'Psychopath' Trump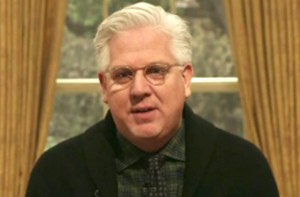 Glenn Beck went nuclear on Donald Trump tonight in response to his "angry, hate-filled" performance at tonight's Republican debate.
He literally said, "The psychiatric community needs to step up and address what we are witnessing. This man is a narcissistic psychopath."
Beck argued that either Trump is a "game show host" in this for the ratings or he is seriously, deeply disturbed.
And once again, he issued a dire warning about what would happen if Trump is president:
I believe, if this is not the eye opening moment for America on who Donald Trump is at the core, this country is surely lost.

Four years of this bully will lead to civil war or worst. The poison that is being injected into our body couldn't be more toxic.

Because I know God is just, tonight, I tremble for my country.
And on top of that, here's what Beck tweeted about Trump while the debate was going on:
If America doesn't see what an unhinged bully Donald Trump is after tonight's debate, there is no decency left. Now he mocks Barbara Bush.

— Glenn Beck (@glennbeck) February 14, 2016
@glennbeck We are watching the world's first self lynching. I have never seen anything like this.#GOPDebate

— Glenn Beck (@glennbeck) February 14, 2016
The hatred and anger inside of Trump is breath taking.He is truly frightening.I would worry about safety if I were alone w/him.#GOPDebate

— Glenn Beck (@glennbeck) February 14, 2016
Can anyone give me specifics on how from DJT?
I know the problems. I heard: huge, wonderful, win, and polls. How don, how? #GOPDebate

— Glenn Beck (@glennbeck) February 14, 2016
[image via screengrab]
— —
Follow Josh Feldman on Twitter: @feldmaniac
Have a tip we should know? tips@mediaite.com
Josh Feldman - Senior Editor