Well, it's about that time again, when we here at Mediaite pool our resources and brainpower to kick around silly conversations about who looks like who. It's a nice break really for the editors, after working so hard on covering the ins-and-outs of this Presidential campaign, to humorously decide on television doppelgängers. Take a look through our choices and give us your thoughts in the comments below. Got suggestions or recommendations? Have you found better doppelgängers? Let us know! Many of these television anchors, contributors, and show hosts are people we cover regularly at Mediaite and have great respect for, so we consider this a great way to have a little fun and honor the guys and gals who make cable news what it is today!
Chris Matthews and Boris Johnson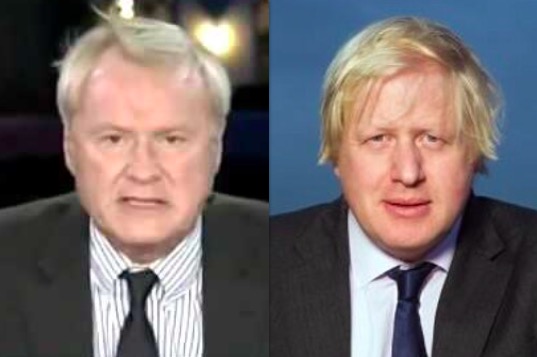 Chris Matthews' hair game may not be as famously unruly as London mayor Boris Johnson, but the resemblance between the two is still pretty awesome. Johnson has served as the Mayor of London since 2008, and whenever Johnson makes headlines here in the States we always chuckle to ourselves, and think of him as the slightly more animated version of the Hardball host. They may have more in common than you think, too; in addition to both being politically active in their respected countries and rocking a mean head of blonde locks, Johnson was actually born in New York City, just a stone's throw (globally speaking) from Chris Matthews' native Philadelphia. [images via screengrab and Twitter]
Fareed Zakaria and Bruno Mars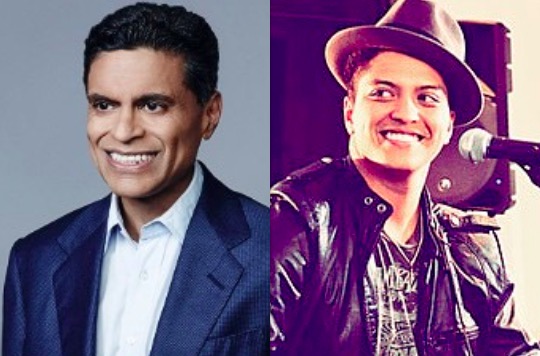 We don't need a GPS to find out where to go to find CNN's Fareed Zakaria's doppelgänger! (See what we did there?). The TV veteran really looks an awful lot like recent Super Bowl halftime performer Bruno Mars, even if the two don't exactly fall into the same age bracket. Zakaria's work at CNN has continued as an influential voice in the 2016 election, recently anchoring the must-see CNN special Blindsided: How ISIS Shook the World. As for the Hawaiian singer who could be his son? His career's as hot as ever, though it would be something to try and see Zakaria pull off a slick white fedora with screaming pink blazer! [images via CNN and Flickr]
Richard Engel and Jaime Lannister from Game of Thrones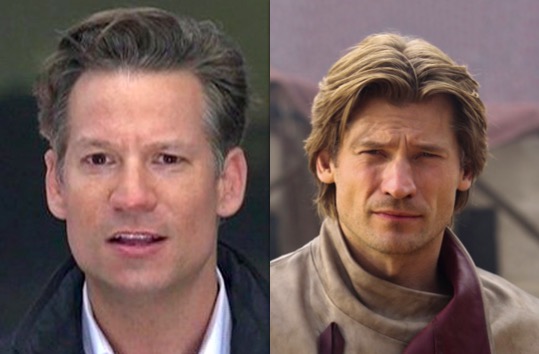 If NBC News' chief foreign correspondent Richard Engel ever went on location to King's Landing, he'd be sure to cause quite a stir, given how much he looks like hometown bad boy Jaime Lannister. Lannister (played by Nikolaj Coster-Waldau) has spent his entire adult life embroiled in wars and international power struggles while Engel has spent most of his covering such events, and winning over 25 awards for his incredible coverage of events like the Iraq War, Syrian Civil War, and Arab Spring. [images via Twitter and screengrab]
Nathan Lane and Sean Hannity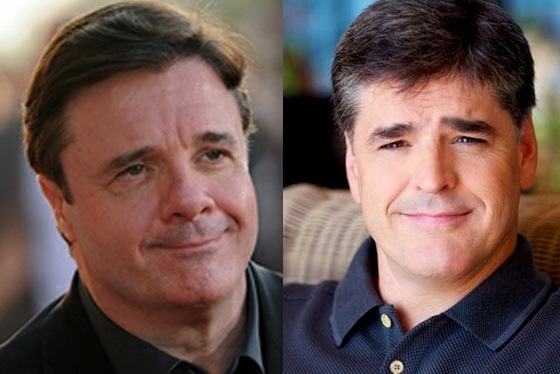 Betcha never saw it before, eh? And now it's the ONLY thing you'll see when you tune in to Sean Hannity's top-rated weeknight show on Fox News. The veteran anchor bears a striking resemblance to Producers and Birdcage alum Nathan Lane, and although each man's mannerisms, physicality, voice, and likely politics all differ from the other's, it's all in the photograph, people. And how can you deny this? It's interesting to imagine a role reversal with these two, with Lane anchoring an evening Fox News show and Hannity bursting through the curtain to a tap dance number in a sold-out Broadway house. Note to self: movie script idea…
McKay Coppins and Philip Seymour Hoffman as Truman Capote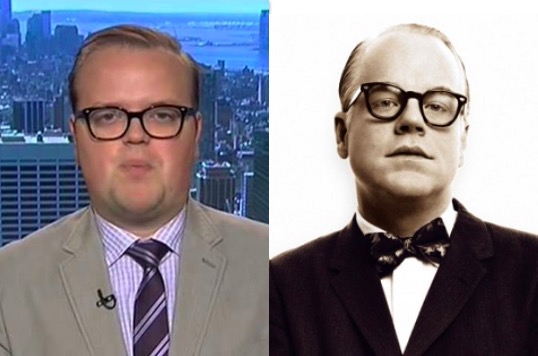 Philip Seynour Hoffman was an actor who was known for totally embodying his characters and giving them major depth. His doppelgänger, Buzzfeed's McKay Coppins, is a political writer who gives his characters major depth, too, except that his characters are the GOP presidential candidates. In his 2015 book The Wilderness, Coppins used interviews with the stars of the Republican party and those who know them to paint pictures of each man as vivid as the one Hoffman painted of Truman Capote in the author's biopic.
NEXT PAGE: See who else made our list of best TV personality doppelgängers!
Have a tip we should know? tips@mediaite.com