Ben Affleck's Reaction to the Reviews of Batman v. Superman Was So Sad It Became a Meme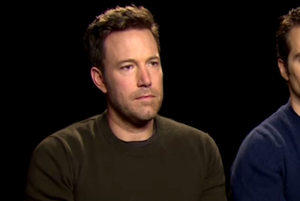 Batman v. Superman is, according to the Internet and the people here in the office who saw it last night, a big stinker. I am going to see it tonight if only because I want to witness a cultural landmark being erected while I'm alive to do it. It is allegedly so bad that we are going to be talking about it for a long, long time.
The sad thing about stuff that we commoners often find hysterical is that real people worked hard on them anyway. In this case, Ben Affleck is one of those real people and as you can imagine, all the jokes being made at the expense of his big stinker of a film are hurting his feelings.
Here:
If you click over to the YouTube page, you'll see that this video has amassed over 2,000,000,000 views in one day. Now, we are laughing at Affleck frowning at us laughing at him. Oh, dear.
When I say we're laughing, by the way, I mean it. Not only does that video have more favorable reviews than the failed epic that is currently stinking up your local AMC, but his reaction has been predictably meme-ified.
Ben Affleck having to talk about 'Batman v Superman' is #SadAffleck https://t.co/qBbOhTaAn2 pic.twitter.com/Dmitnc84cn

— Mic (@micnews) March 25, 2016
You know it's bad when you're holding a puppy and you're still #SadAffleck pic.twitter.com/nxC5tz7kCF

— Aly Keves (@alykeves) March 25, 2016
Sorry, Ben Affleck!
[image via screengrab]
For more from Lindsey, follow her on Twitter.
Have a tip we should know? tips@mediaite.com