Bergdahl Reportedly Converted to Islam, Declared Himself a 'Mujahid' in Captivity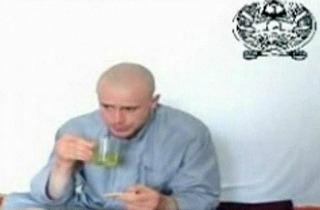 According to secret documents obtained by Fox News which were based on eyewitness accounts, Army Sgt. Bowe Bergdahl converted to Islam in 2010 while a Haqqani captive. According to the report from Fox's James Rosen, the documents suggest that Bergdahl "fraternized openly with his captors" and declared himself a "mujahid."
Rosen's report indicates that Bergdahl's relationship with his captors was fluid. At times, it was hostile and he was treated like a prisoner. "The documents show that Bergdahl at one point escaped his captors for five days and was kept, upon his re-capture, in a metal cage, like an animal," the Fox report read. At other times, he was accepted by his captors, treated like a "fellow," and even allowed to carry a gun.
According to Duane Clarridge, a former CIA officer, the subcontracting firm Eclipse Group had a contract with the Pentagon and aided in the efforts to locate Bergdahl. Clarridge told Fox News that one of the Eclipse's reports to CENTCOM in August of 2012 indicated that "the American prisoner had declared himself a 'mujahid.'" More:
Conditions for Bergdahl have greatly relaxed since the time of the escape. Bergdahl has converted to Islam and now describes himself as a mujahid. Bergdahl enjoys a modicum of freedom, and engages in target practice with the local mujahedeen, firing AK47s. Bergdahl is even allowed to carry a loaded gun on occasion. Bergdahl plays soccer with his guards and bounds around the pitch like a mad man. He appears to be well and happy, and has a noticeable habit of laughing frequently and saying 'Salaam' repeatedly.
Not every source which Rosen spoke with confirmed the claims that Bergdahl collaborated with his captors:
[Retired U.S. Marine Corps General James N. Mattis] was also adamant that no one at CENTCOM or within the broader U.S. military or intelligence community — despite intensive investigation of such allegations — ever learned of anything to suggest Bergdahl had evolved into an active collaborator with the Haqqani network or the Taliban.
Rosen also reports that Bergdahl had suffered from poor health since at least the summer of 2010.
[Image via Reuters TV / Reuters]
— —
>> Follow Noah Rothman (@NoahCRothman) on Twitter
Have a tip we should know? tips@mediaite.com