Big Journalism Promotes Tucson Memorial T-Shirt Smear That Turns Out To Be Whole Cloth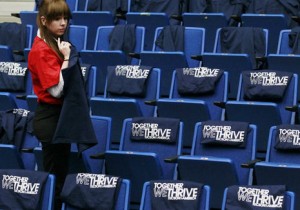 The right-wing media continues to promote smears and outright lies about last week's "Together We Thrive" memorial to the Tucson shooting victims. The most recent of several smears centered on the t-shirts that were distributed at the memorial alleges that the slogan "Rocking America and Rocking the Vote" was printed at the bottom of the shirts.
Andrew Breitbart's Big Journalism has promoted the completely unsourced claim, but Mediaite has confirmed that it is, indeed, made-up nonsense.
Big Journalism's Ken Larrey got the spurious claim from Canada Free Press' Judi McLeod (who also thinks the mob was behind 9/11), who simply states it as fact, without source, attribution, or evidence:
If you were a mourner who took home a "Together We Thrive" T-shirt have a look at the bottom of your shirt.  "Rocking America and Rocking the Vote" is a common theme of the DNC,  and it's right there on your Memorial T-shirt memento.
Larrey goes on to exclaim:
If that is true – and it should be easily verifiable as thousands of people now possess those shirts – I'm not sure how that will be explained…
Here's a tip for all you would-be Big Journalists: if you have to say "if that is true," then it shouldn't be in your headline as fact. Larrey even notes the ease with which the claim could be verified, but…doesn't bother to do so.
I, on the other hand, did. I got wind of this over the weekend, and several journalists who were there told me it was nonsense, the shirts said no such thing. I examined photographs of the shirts on Flickr. Still, I wanted to be absolutely sure before I wrote that it was a lie, because that's what journalists do.
This morning, University of Arizona spokesperson Jennifer Fitzenberger confirmed it:
The shirts are dark blue and in white say "Together We Thrive: Tucson & America."

That's it. There's nothing on the back. That other phrase ("Rocking America and Rocking the Vote") is not on our shirts.
Larrey paired this BS with another, already debunked lie about the t-shirts. He qualifies it a little more carefully than some of his comrades, but the claim is the same, that the slogan "Together We Thrive" is a creation of Barack Obama's Organizing for America:
"Togethere We Thrive" sure sounded a lot more campaign like than memorial like. Usually the themes for memorials – assuming they're meant to feature those we're supposedly remembering – are not about "thriving" or "prospering" or anything of that sort. It was a jarring oddity. Now we have an idea where it came from. Not only did the slogan for this Obama 2012 campaign kickoff, "Together We Thrive," originate from President Obama's campaign organization Organizing for America, but it was the title of a post calling for revolution:
The post links to a blog on MyBarackObama.com (now called Organizing for America) that uses "Together We Thrive" as its headline. At the bottom of that blog, of course, is the tidbit that makes this entire premise a lie:
Content on blogs in My.BarackObama represents the opinions of community members and in no way should be interpreted as endorsed or approved by the campaign.
As the promoters of this lie well know, MyBarackObama.com was a user-controlled forum, and this blogger had as much to do OFA as one of our commenters has to do with Mediaite.
The intensity with which some right-wing bloggers continue to try and smear the Tucson memorial is veering from comically absurd, to sick. But in the world of fringe blogging, there are few consequences, and every chance you'll get a traffic-boosting slam from Keith Olbermann.
Have a tip we should know? tips@mediaite.com