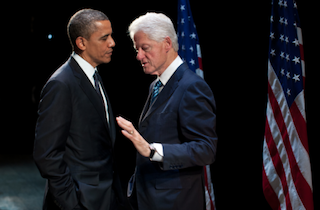 Speaking at a closed press event for the McCain Institute for International Leadership in Manhattan Tuesday night, former President Bill Clinton warned President Obama that he could risk looking like a "total fool" and a "wuss" if he remained too cautious in his approach toward Syria. Americans "hire you to win," he explained.
POLITICO first reported the remarks — which came during a question-and-answer session — and The Daily Beast also obtained audio. Referencing his own decisions in Kosovo and Bosnia, Clinton warned Obama could look like a "total fool" if he listened too much to opinion polls and didn't act.
"Some people say, 'Okay, see what a big mess it is? Stay out!' I think that's a big mistake. I agree with you about this," Clinton told McCain.
The former president repeatedly mentioned not relying heavily on current public opinion because Americans elect the president "to look around the corner and see down the road." To blame lack of intervention on polls would be "lame," he said.
If Clinton had ever blamed a lack of action because "there was a poll in the morning paper that said 80 percent of you were against it … you'd look like a total wuss," he said. "And you would be. I don't mean that a leader should go out of his way or her way to do the unpopular thing, I simply mean when people are telling you 'no' in these situations, very often what they're doing is flashing a giant yellow light and saying, 'For God's sakes, be careful, tell us what you're doing, think this through, be careful."
"If you refuse to act and you cause a calamity," Clinton cautioned, "the one thing you cannot say when all the eggs have been broken, is that, 'Oh my God, two years ago there was a poll that said 80 percent of you were against it.' Right? You'd look like a total fool."
Read the report here.
Have a tip we should know? tips@mediaite.com