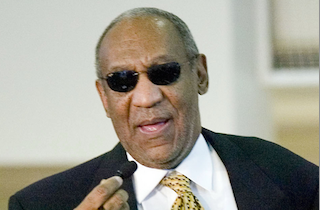 A reporter finally asked Bill Cosby to respond to mounting allegations of rape against him from multiple women. And the comedian just silently shook his head.
Cosby and his wife Camille appeared on NPR's Morning Edition Saturday with Scott Simon today to discuss their contributions to the Smithsonian's National Museum of African Art. But in the last few minutes of the segment, Simon broached the topic that was likely on many listeners' minds.
"This question gives me no pleasure, Mr. Cosby, but there have been serious allegations raised about you in recent days," Simon said. After a short pause, he said, "You're shaking your head no."
"I'm in the news business," Simon went on. "I have to ask the question. Do you have any response to those charges?" He again said Cosby was shaking his head.
"There are people who love you who might like to hear from you about this," Simon tried once more. "I want to give you the chance." Finally, he said, "Alright," and ended the interview. Camille Cosby said "thank you" twice, but Bill Cosby did not speak again.
Following the interview, Simon went on Twitter to elaborate on what happened:
I'll respond to @BillCosby questions later. For moment: yes, I hated to have to ask about charges in front of Mrs. Cosby.

— Scott Simon (@nprscottsimon) November 15, 2014
The night before Cosby went on NPR, it was reported that an upcoming appearance on the Late Show with David Letterman this coming Wednesday had been canceled. Neither Cosby's camp nor David Letterman's would confirm which party decided to cancel the appearance.
Listen to audio below, via NPR (relevant section starts at 3:30):
[Photo via Wikimedia Commons]
— —
>> Follow Matt Wilstein (@TheMattWilstein) on Twitter
Have a tip we should know? tips@mediaite.com