Bill Maher On America: The Country Won't Get Well Because The People Are Sick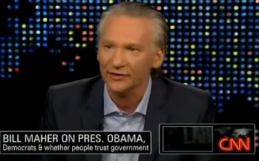 Bill Maher is about to return to HBO this Friday for the ninth season of Real Time With Bill Maher. Earlier this week he received a star on the Hollywood Walk of Fame and later told the Hollywood Reporter the reason he's never received an Emmy is because he's an atheist.
One imagines that after being off the air during a summer like the one we just had Maher is revving to go and last night on Larry King he certainly had a lot of scorching remarks to make about the state of the country. Maher, unwilling to blame the politicians for the state of the nation says it's the people that are unwell, and that the country elected President Obama to fix a "massive" years-long mess and "because he didn't do it by football season" voters are ready to bring back "the doctor who was using leeches."
I am not like Mitt Romney, whose book is called 'No Apology, The Case For American Greatness,' Really? You know always waving the big foam number one finger. We're not number one in most things. We're number one in military, we're number one in money, we're number one in fat toddlers, meth labs, and people we send to prison. We're not number one in literacy, money spent on education, we're not even number one in social mobility. Social mobility means basically the American dream, the ability of one generation to do better than the next. We're tenth. That's like Sweden coming in tenth in Swedish meatballs.
Presumably that is as close to a season preview as we're going to get. Watch below.
Have a tip we should know? tips@mediaite.com