Civil War: Karl Rove Slams Christine O'Donnell – Sean Hannity, Michelle Malkin And More Fire Back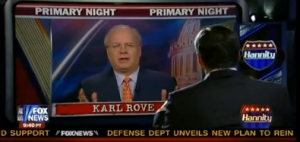 Tea Party (and Sarah Palin) favorite Christine O'Donnell's surprise victory over establishment candidate Mike Castle in Delaware last night brought celebration among conservative hosts like Sean Hannity.
But Karl Rove came on the Fox News show to rain on the parade – slamming O'Donnell for being "nutty," then feeling the right-wing heat himself.
"This is the one that's unusual," started Rove in his interview with Hannity. But when Hannity explained how Castle is a RINO, Rove fired back: "You didn't make out a list of things Christine O'Donnell had done right. I've met her, I've got to tell you I wasn't frankly impressed with her abilities as a candidate." (By the way, if O'Donnell continues down the path of her Grizzly mentor, you should start following her on Twitter.)
Hannity called the discussion "probably one of the few times we're going to disagree" and disagree they did. Rove questioned O'Donnell's "rectitude and truthfulness and sincerity and character" and brought up the odd occurrence of O'Donnell talking about "the people who were following her home from her headquarters, and she checked in the bushes." Rove said the result of the primary was the GOP looking at one less win in the Senate.
Another Fox News contributor Michelle Malkin slammed Rove almost immediately in a blog post. "Might as well have been Olbermann on MSNBC," wrote Malkin (and WOW what a slam). "The establishment Beltway strategist couldn't even bother with an obligatory word of congratulations for O'Donnell."
But there's more to this story about Rove and O'Donnell, and others on the right are focusing on Rove's direct involvement in the Delaware race (and one is calling for FNC to suspend him). It was actually a story told on Rachel Maddow's MSNBC show during her interview with Will Bunch. When a member of the Delaware 9/12 Patriots took the stage at O'Donnell's victory celebration last night, this is what was said, according to Maddow:
How Karl Rove had come to Delaware and talked to Christine O'Donnell about needing to get behind the party, and the 9/12 Patriots essentially said 'get lost Karl.' That was the message from the stage tonight.
Bunch said this happened in December of last year. It sounds like Rove tried to sway the Delaware right toward Castle and couldn't pull it off – and on Hannity, he aired out his concerns publicly. Likely to the surprise of many, including the FNC host, it seemed. But it certainly made for great TV, as noted by Greta Van Susteren directly after it happened.
This isn't over. Rove is a regular on FNC, and if the right turns on The Architect – well it truly would be a shocking midterm development.
Here's Hannity vs. Rove, and below, Maddow and Bunch on Rove/O'Donnell:

Maddow:


——
» Follow Steve Krakauer on Twitter
Have a tip we should know? tips@mediaite.com