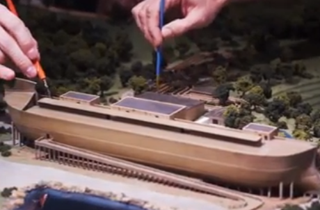 Bill Nye may have won the adulation of the public after his debate with creationist Ken Ham, but Ham won something even better and way more lucrative: enough money to build a $73 million replica of Noah's Ark in the Babylon known as Kentucky.
Thanks to the widely-publicized debate, Ham, who vigorously defended a literal interpretation of the Bible, received a deluge of donations to complete a 510-foot replica of the mythical ship, originally planned as the main attraction in a $150 million Bible-themed fun time park. Those donations, along with a bond from the city of Williamstown, KY, will allow Ham open the Ark Encounter (yes, that's the name) by 2016.
In a press release announcing that they'd met the fundraising goal, Ham said that he was proud of his fundraising accomplishments, despite the (sigh) liberal godless media getting in the way. "From atheists registering for the bond offering and attempting to disrupt it, to secular bloggers and some reporters writing misleading and inaccurate articles about the bonds—the obstacles were numerous and disruptive," he said, but "God in His providence supplied our needs."
When asked about the Ark by the AP, Nye said he was "heartbroken and sickened for the Commonwealth of Kentucky," adding that "If [Ham] builds that ark, it's my strong opinion [that] it's bad for the commonwealth of Kentucky and bad for scientists based in Kentucky and bad for the U.S.," Nye said, reports Raw Story. "And, I'm not joking, bad for the world."
FUN RELATED FACTS:
According to Bill Nye, the Ark as described in the Bible is physically incapable of floating.
The yacht Venus, belonging to the late billionaire Steve Jobs, cost $197 million. This boat can, incidentally, float.
The world's largest yacht, owned by a Saudi prince, is said to cost nearly $609 million. It is also believed that this boat can float.
The special effects for Darren Aronofsky's upcoming film Noah, necessary to create the image of a floating, pretend boat, vastly contributed to the film's $130 million budget.
According to the bible, Ham was the son of Noah, which gives this entire project a lot more context.
[h/t The Huffington Post]
[Image via screengrab]
— —
>> Follow Tina Nguyen (@Tina_Nguyen) on Twitter
Have a tip we should know? tips@mediaite.com