Blago's Strategy as Governor: Avoid Aides and Budget Woes… By Hiding in the Bathroom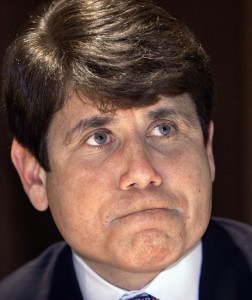 Not only is Former Illinois Gov. Rod Blagojevich a master of silly, short-lived enterprises (see both his run on Celebrity Apprentice and his attempt to live tweet his own corruption trial), but he's also apparently a master of procrastination. Testifying at his trial yesterday, Blagojevich's former deputy governor Robert Greenlee said Blagojevich took to hiding in the bathroom and cutting out of work early to avoid his budget director and other aides.
The Chicago Tribune reports that Blagojevich wasn't fond of bad news (who is?) and would give a cold shoulder to whichever aides had the unfortunate job of bearing said bad news. His very mature tactics included seeking refuge in the bathroom or back room until the aides left and spending as little time as possible in the office, as in "just two to eight hours a week."
From the Tribune:
Greenlee said he found it "relatively difficult" to get Blagojevich to focus on important issues facing the office, and the former deputy said he often had to track Blagojevich down to get him to meet deadlines to consider whether to sign or veto legislation.

Once, Greenlee said, he had to force himself into a Blagojevich family dinner at the Southport Lanes bowling alley and restaurant in order to get the governor to make decisions on pending legislation. At that dinner, with the governor's wife and children in tow, Greenlee forced Blagojevich to review 20 pieces of legislation.
If you want to shut out the outside world, Mr. Blagojevich, I hear sticking your head in the sand works pretty well too. Then your aides can't see you!
Have a tip we should know? tips@mediaite.com