Bloggers File Formal Complaint To Get Attorney General Eric Holder Disbarred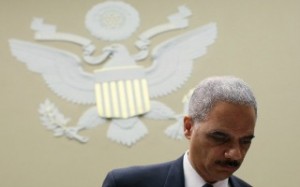 As a result of Attorney General Eric Holder being held in contempt of Congress for withholding information in the investigation of the Fast & Furious scandal, two conservative bloggers have lodged a formal complaint with the Office of Bar Counsel in DC to get Holder disbarred.


RELATED: GOP House Rep To Megyn Kelly: We Could Have Eric Holder Arrested
According to Fox News, the complaint was filed by David Codrea, who manages the blog The War on Guns, and Mike Vanderboegh, another gun-rights blogger who runs the site Sipsey Street Irregulars. Codrea and Vanderboegh have been credited with being the first ones to report on the Fast & Furious scandal last year. They say in the letter that the attorney general is in violation of the rules of professional conduct and should be disbarred for his actions.
The filing makes reference to D.C. Bar Counsel rules and claims the attorney general violated the ethics code by "engaging in conduct involving dishonesty, fraud, deceit or misrepresentation" and "conduct that seriously interferes with the administration of justice."

Though President Obama has claimed executive privilege over the documents in question — in turn attempting to protect Holder from prosecution — Brian Darling, senior fellow in government studies at The Heritage Foundation, suggested the complaint is on solid ground.

"It is clearly a reasonable basis for a complaint against Eric Holder to say 'you are in charge of the Justice Department, the Justice Department is refusing to produce documents that were subpoenaed by Congress and as a result you were held in contempt to Congress not once, but twice'," he said.
A spokeswoman for the Justice Department dismissed the complaint as "specious claims that ignore the facts and can only be described as frivolous." Last week, Arizona congressman Ben Quayle told The Daily Caller he agrees that the bar should investigate Holder for "engag[ing] in dishonesty and misrepresentation to Congress."
h/t Fox News
Have a tip we should know? tips@mediaite.com
Josh Feldman - Senior Editor