Obama On Biggest Mistake Of His Presidency To CBS: Policy Was Right, Salesmanship Was Lacking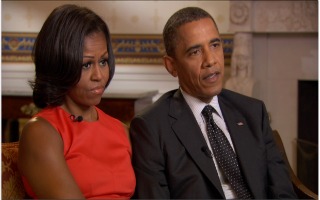 President Barack Obama and First Lady Michelle Obama sat down with CBS News' Charlie Rose for an exclusive interview which will air on CBS Sunday Morning. In the interview, Obama was pressed by Rose to describe what he thought the biggest mistake of his presidency. The President replied that he thought he got the policies correct, but his salesmanship was lacking.

RELATED: President Obama Shreds Romney's Chances With Hispanic Voters In Speech To Latino Group
Obama said his biggest mistake as president was thinking that the job was just about getting the policy right. Of course, Obama stands by his policy proscriptions for addressing the persistent economic crisis. He did concede, however, that the nation requires more of their president.
When I think about what we've done well and what we haven't done well. The mistake of my first term – couple of years – was thinking that this job was just about getting the policy right. And that's important. But the nature of this office is also to tell a story to the American people that gives them a sense of unity and purpose and optimism, especially during tough times.
The President said that the faith his supporters expressed in his abilities as an orator left him believing in, for lack of a better term, his own hype.
"It's funny – when I ran, everybody said, well he can give a good speech but can he actually manage the job?" said Obama. "And in my first two years, I think the notion was, 'well, he's been juggling and managing a lot of stuff, but where's the story that tells us where he's going?' And I think that was a legitimate criticism."
"So getting out of this town – spending more time with the American people – listening to them and also and being in a conversation with them about where do we go together as a country," Obama concluded. "I need to do a better job of that in my second term."
"A better job of explaining," asked Rose.
"Explaining but also inspiring," Obama replied.
Of course, the lack of presidential "salesmanship" has been a persistent gripe among Obama's supporters since 2009.
The President was criticized for not selling his stimulus plan's benefits to the economy (despite making 48 speeches on the subject by July 2009). He was battered by friend and foe alike for botching the explanation that would drive voters to fully embrace the auto industry bailout. Obama is still getting guff from his left for failing to sell voters on his health care reform plan – a sales effort that could only be described as a full-court press and is ongoing.
Maybe it's not the salesman. Maybe, just maybe, it's the product.
Watch a clip of the interview below via CBS:
> >Follow Noah Rothman (@Noah_C_Rothman) on Twitter
Have a tip we should know? tips@mediaite.com