Bollocks! Mayor Of London Is Fining President Obama For Not Paying A Congestion Charge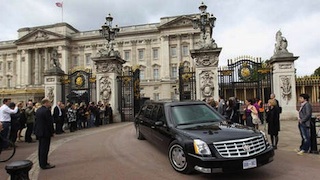 Well, it's finally happened. After months of forewarnings, the a massive British scandal has crossed the ocean and reached our shores, embroiling some of the most powerful people in America. What? Oh, no, not that thing. Is that story still going? Whatever. No, I'm talking about the congestion fee that London Mayor Boris Johnson has fined the President with. It may not seem like a bigger story but just wait till Hugh Grant gets involved!
Anyway, the story started back in May when President Obama and his high-security motorcade visited the United Kingdom. The city of London filed a £10 congestion fee against the motorcade which America never paid because no one can boss us around ever! And because we're broke.
Now, however, Johnson is breaking out the big guns; a £120 lateness fee!
From the London Evening Standard:
"Mr Johnson raised the issue with Mr Obama at a banquet at Buckingham Palace in a 'very friendly conversation' in May.

He has argued that The Beast and the rest of the convoy should have paid the charge as London's roads were not closed – unlike during the Pope's visit last autumn, when the Popemobile was exempt.

The American Embassy defended the refusal by US diplomats to pay the C-charge insisting it was 'wholly in accordance' with the 1960 Vienna Convention on Diplomatic Relations, which a spokesman said 'prohibits the imposition of this sort of tax on diplomatic missions'."
This may seem a bit petty however, as the Evening Standard points out, the £120 are just the tip of a £5 million iceberg that American diplomats have amassed and not paid since the fee was first established in 2003. So, yeah, what's the bigger British news story now, huh?
What? Still the other one. Okay, fine.
(h/t Drudge)
Have a tip we should know? tips@mediaite.com