Update: Labor Reporter Mike Elk Goes Off On The Atlantic's 'New Work Era Summit'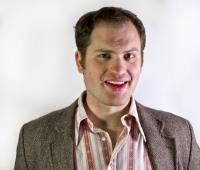 In a business rife with bland public relations boilerplate and embellished faux-intellectual patter, the occasional burst of unvarnished spleen can be refreshing. FishbowlDC's Betsy Rothstein shared just such an outburst this morning, as labor reporter Mike Elk went the eff off on The Atlantic's New Work Era Summit. Elk's screed stands out because it sounds exactly like the kind of thing you might hear spat over an Amstel Light at a DC watering hole, but wouldn't usually see in print.
Betsy explained that her normally anonymous "Anonymous Rant" was going to be decidedly nymous today, at Elk's request. Here's a little taste:
Saw on your site those fucking toolbags at the Atlantic are holding a "New Work Era Summit" at Neuseum. Funny thing is they didn't invite a single union leader or, you know, like a regular worker. Instead, they invited plenty of people who are union busters like Michelle Rhee, Arne Duncan, and that fucking asshole from ManpowerGroup. Temps aren't anything but scabs.
He's referring to Jeff Joerres, President and CEO of Manpower Group. Apparently, they're not an agency for male strippers.
Elk goes on to deride the inclusion of ThinkProgress' Matt Yglesias as the "voice of the people."
Michelle Rhee became something of a media darling as Washington, DC schools chancellor, but her support for vouchers and opposition to tenure earned her the enmity of labor supporters. Duncan similarly espouses things, like vouchers and merit pay, that rankle teachers and their supporters, but sound good when you don't think about them too much.
Tenure, for example, does protect some "bad teachers," but it's also the only bulwark against cost-cutting municipalities simply axing the most expensive teachers, creating a profession of low-pay, low-skill educators (ditto "merit pay," which can be gamed to exactly the same effect).
Vouchers are great for parents whose kids are already in private schools, or who can almost afford them, but not so much for the kids who can't (usually the most at-risk kids), and who are left behind in an already-struggling public school that now has even fewer resources. Proponents call it "school choice."
Elk's frustration, in a larger sense, is rooted in the Democratic Party's decades-long effort to be seen as more "business friendly," and its willingness to alienate portions of its base in order to try and broaden its appeal. Labor is just one of many Democratic constituencies who get buttered-up around election time, but are left sitting by the phone the rest of the time.
Update: A spokesperson for The Atlantic tells Mediaite, "Consistent with The Atlantic's practice of convening conversations where a wide range of views are represented, the AFL-CIO's Thea Lee took part in a round table discussion this morning on jobs and the economy that preceded the broader New Work Era Summit. A range of voices from government, business, and academia also participated in today's events."
Michelle Rhee and Matt Yglesias contributed to a special report on TheAtlantic.com , but were not in attendance at the New Work Era Summit.
Update II: The Wrath Of Elk: Mike Elk saw The Atlantic's response, and sent the following statement to Mediaite:
What load of shit from embarrassed Atlantic flacks. So let me get this right AFL CIO Chief of Staff Thea Lee spoke at the event before registration for the event or introduction remarks happened… Bullshit, Sounds to me like one of the Atlantic's corporate underwriters of the summit, the notorious union busting association "National Association of Manufacturers", didn't want labor prominently featured anywhere among the dozen or so speakers at the event. The Atlantic taking money from NAM to host a labor event is extraordinarily unethical, someone needs to resign over this.
Have a tip we should know? tips@mediaite.com