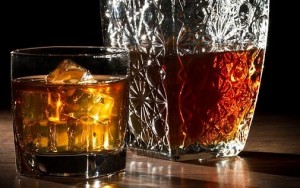 Since there doesn't seem to be anything anyone can do to get Macy's or NBC Entertainment to Dump Donald Trump™, the unhinged Mitt Romney backer and serial Barack Obama humiliatee has graciously provided humankind with another way to express their displeasure with Trump, one that will leave them feeling little pain. It seems that the makers of Glenfiddich have gravely insulted The Donald by giving Michael Forbes their "Top Scot" award because the people of Scotland voted for him. Wait, isn't Donald Trump an American?
It turns out Trump didn't want the award for himself, just for anyone other than Michael Forbes, because Forbes refuses to sell his land so it can be turned into a Trump golf resort. Now, Trump refuses to sell any of the Glenfiddy distillers' products at any of his properties, until he gets to see this Glenn Fidditch's real birth certificate. Wait, that's not it. From Wonkette:
In exactly the sort of thing that you would expect Donald Trump to say, the overcompensating narcissist spun out a conjecture that the distiller's dumb publicity-stunt contest, which it has sponsored for fifteen years, was actually conceived and executed in reaction to Trump Himself, because, of course, the successful whiskey-making concern was jealous of the pure concentrated white dwarf star of brilliance that is Trump, who recently began marketing his own brand of single-malt firewater:

"Glenfiddich should be ashamed of themselves for granting this award to Forbes, just for the sake of publicity.

"Glenfiddich is upset that we created our own single malt whisky using another distillery, which offers far greater products. People at our clubs do not ask for Glenfiddich, and I make a pledge that no Trump property will ever do business with Glenfiddich or William Grant & Sons.

"I hereby call for a boycott on drinking Glenfiddich products because there is no way a result such as this could have been made by the Scottish people."
Mr. Fidditch insists otherwise:
"We understand that there may have been some confusion and misunderstanding concerning the structure and running of the Glenfiddich Spirit of Scotland Awards," the firm (William Grant & Sons) said in a statement.

"Top Scot is a totally open category in which the people of Scotland can vote for whomsoever they choose and Glenfiddich has no influence on this decision. [The] Top Scot may be one of that year's category nominees or may come from any walk of life. The person receiving the greatest number of votes, cast by the people of Scotland, wins the award."

It added: "In the history of these awards, we are not aware of the Top Scot award causing any offence or upset to anyone and it is not our intention to do so now. These awards were set up to give the people of Scotland a vote and we must respect their decision."
Well, even if William Grant & Sons did nothing to deliberately crush Donald Trump's pinkie-sized self-esteem, the fact that he thinks they did is enough to earn them the eternal gratitude and loyalty of all decent, democracy-loving Americans. Perhaps we can share the love by tweeting pictures of ourselves getting hammered on Glenfiddy at Donald Trump, or Fonakd Trinp by the time our alcohol-numbed fingers are done. Perhaps even famously vociferous Trump detractor Lawrence O'Donnell, who assures me he never touches the stuff, can at least manage to pour some out for Trump's dead political career.
Have a tip we should know? tips@mediaite.com