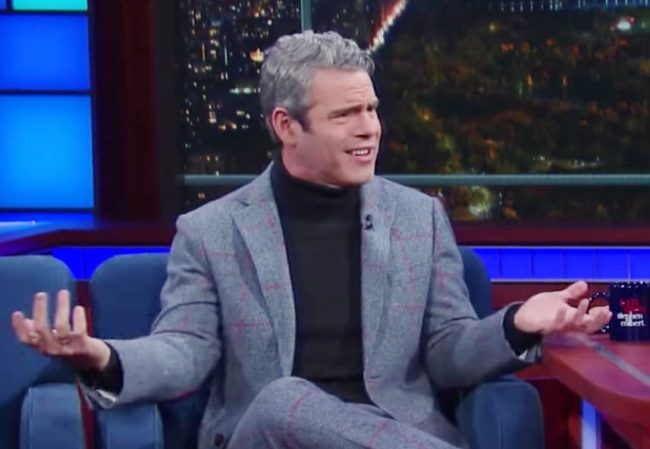 Nobody knows how to insult someone like a Real Housewife and nobody knows the Real Housewives like Andy Cohen.
The Bravo host, who wrangles and chaperones the cast of each Real Housewives franchise in a reunion at the end of every season, served up a reality television-worthy burn to Donald Trump after the president sent out some of his signature tweets this morning.
See, ahead of the House Intelligence Committee hearing in which we learned that, yes, the FBI is definitely investigating Trump's campaign for possible Russian ties, the president tweeted that news about Russia is all fake. Then, he tweeted that if anyone colluded with Russia, it was Hillary Clinton.
Cohen wasn't having it. He followed up this…
What about all of the contact with the Clinton campaign and the Russians? Also, is it true that the DNC would not let the FBI in to look?

— Donald J. Trump (@realDonaldTrump) March 20, 2017
…with this:
Sweetie you are a first season Real Housewife making stuff up to stay on the show. https://t.co/nwHCj87vrE

— Andy Cohen (@Andy) March 20, 2017
When a follower weighed in, he clapped back at her and name-checked a Real Housewife while he was at it:
@fancimimi sweetie he is a reality star who has as much political experience as me. Or you. Or my cab driver. Or Vicki Gunvalson. Or my dog

— Andy Cohen (@Andy) March 20, 2017
Vicki Gunvalson isn't the Donald Trump of Orange County, of course. Everyone knows that's Kelly Dodd, though if you asked her, she'd likely say it's Heather Dubrow). Anyway, that's a topic for a different post altogether.
For now, just know that Andy Cohen did not come to sip champagne and sit idly by while the president stirs up drama.
[image via screengrab]
——
Have a tip we should know? tips@mediaite.com