7.3 Magnitude Earthquake off the Coast of Fukushima, Japan; Tsunami Evacuation Order in Effect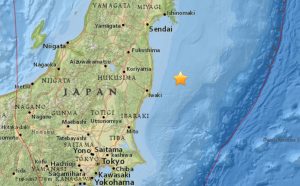 There was a 7.3 magnitude earthquake off the coast of Japan, and there is an order to evacuate the coastal areas in the Fukushima region of Japan ahead of an imminent tsunami.
The Japan Meteorological Agency (JMA) issued a tsunami warning for the coastal areas of the Fukushima prefecture. The tsunami is estimated to be three meters high when it makes landfall. Those in the warning zones are being ordered to evacuate for higher ground immediately.
You can watch a livestream from Japan's NHK here.
A tsunami advisory — less drastic than warning — has been issued for other coastal areas on Japan's eastern coast, where the tsunami is expected to reach a height of one meter, according to the JMA.
The earthquake occurred just before 6 a.m. Tuesday local time (4 p.m. Monday eastern time), in the Pacific Ocean east of Fukushima.
Evacuees are warned that the tsunami will hit repeatedly and should remain sheltered until advised that the tsunami warning is over.
As of 6:49 a.m. local time, a tsunami with a height of 0.6 meters was observed from the Port of Onahama in Fukushima. Backwash is being reported as water flows out to sea as the tsunami approaches.
BREAKING NEWS: POSSIBLE TSUNAMI IS IMMINENT IN JAPAN FOLLOWING MAGNITUDE 7.3 EARTHQUAKE.

— Breaking News Feed (@pzf) November 21, 2016
Fukushima Daiichi Nuclear Power Plant was struck by a tsunami following an earthquake in March 2011, causing the meltdown of three reactors in Fukushima I and a protracted release of radioactive material. Fukushima I was decommissioned.
NHK reported initially that the earthquake apparently caused no irregularity or change in radiation levels at Fukushima II — the plant which is still in operation.
The NOAA's Pacific Tsunami Warning Center advised that there was no risk of a tsunami to Hawaii.
The tsunami is being reported as the biggest since the one that hit Japan five years ago.
This story is breaking and will be updated.
Have a tip we should know? tips@mediaite.com