Limbaugh Reacts to 'Arrogance' from Hamilton Cast: Do They Know Who Hamilton Was?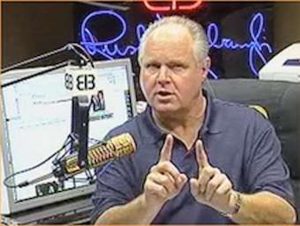 Rush Limbaugh responded to the cast of Hamilton's message to Mike Pence by questioning if they even know who Alexander Hamilton was.
"I don't think the cast of this show has the slightest idea who Alexander Hamilton is," Limbaugh said. "I frankly think they know their lines and that's it. And that's typical liberalism."
(For the record, Lin-Manuel Miranda's inspiration for the musical was reading a lengthy biography on Hamilton.)
Limbaugh said that the cast's message to Pence––hoping the incoming administration stands up for all Americans and talking about the anxiety and fear people have––was an illustration of "the arrogance and condescending nature of liberalism."
He then talked about just what kind of person Hamilton was and made this point:
"You know what the show's about? I mean, it's Hamilton. It's about a vice president who shoots a political rival and gets away with it… in a duel. Do you know that Alexander Hamilton was an immigration hawk? I wonder if the people in this cast have any idea who they are lionizing and celebrating. This guy's Donald Trump. Alexander Hamilton was a huge nationalist. He did not like states' rights. He wanted a massive federal government… I don't think he is at all the kind of guy the people in this cast would celebrate if they literally knew who he was."
He took the cast's reaction to go off on "snowflake" liberals in general, saying that too many on the left just complain and "don't want to have anything controversial that [they] don't agree with be spoken."
Listen above, via The Rush Limbaugh Show.
[h/t Daily Rushbo]
[image via screengrab]
— —
Follow Josh Feldman on Twitter: @feldmaniac
Have a tip we should know? tips@mediaite.com
Josh Feldman - Senior Editor