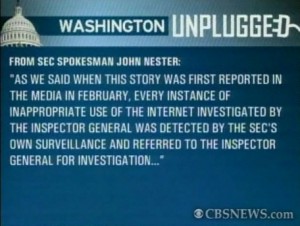 It was one of the biggest stories of last week, an irresistible metaphor-made-real. While Wall Street was having its way with the US economy, employees of the Securities and Exchange Commission were literally playing with themselves. What wasn't widely reported, though, was that the story was several months old, and was revived by opponents of financial reform, who thought it would be an effective counter to news of the SEC's fraud complaint against Goldman Sachs.

In fact, the only thing new about this story is a memo that SEC Inspector General H. David Kotz put together detailing several years of porn-watching investigations, investigations that were reported on in February. The story didn't gain much traction then, probably because the media were focused like a moon-based death ray on health care reform. It also didn't catch on in March, when Gawker published leaked documents of the investigations.
Then came the April 16th story of the SEC's fraud complaint against Goldman Sachs. The tale of heinous public betrayal hit on the very same day that Republican senators unanimously declared their opposition to Senator Chris Dodd's (D-CT) financial regulatory reform bill in a letter to Senate Majority Leader Harry Reid (D-NV). The juxtaposition was such an embarrassment that it instantly shifted the momentum, with some predicting that the Dodd bill could even pass with 70 votes.
The Republicans' response should tell you all you need to know about whether they should be trusted within 500 yards of our economy. First, they focused their outrage, not on Goldman Sachs, but on the SEC and the White House, accusing them of timing the fraud complaint to bolster support for financial reform. They demanded an investigation, and got one.
On Thursday, less than a week after the Goldman Sachs complaint broke, ABC News was first to report on the SEC porn memo. Republicans like Rep. Darrell Issa (R-CA) immediately seized on the story as evidence that financial regulatory reform should be put on hold:
"This stunning report should make everyone question the wisdom of moving forward with plans to give regulators like the SEC even more widespread authority"
This makes about as much sense as saying that we shouldn't enact any new criminal statutes until we figure out a way to neutralize Dunkin' Donuts. While the stupidity of this is incredible, you can't really blame them for taking a swing at it. It's just standard political opportunism, right?
Wrong. This story didn't just happen to drift by at the opportune moment. That memo was requested, and released, by Senator Chuck Grassley (R-IA). While initial reports on this story mention that Grassley requested the memo, it's only as an afterthought, and none of them mention the prior reporting on this story. What, did Grassley have some kind of Spidey-sense that told him to take a shot in the dark that there might be some perverts working at the SEC?
CBS News' Bob Schieffer even interviewed Grassley, and in doing so read a portion of the SEC's statement that was left out of most reports, which pointed out that this story broke in February. Schieffer dismisses it, and never asks Grassley if there's a connection between his release of this memo and the Goldman Sachs complaint.
Furthermore, none of these reports really tries to put the SEC's porn problem in context. They all omit the fact that the IG's memo includes SEC contractors as well as staffers, and none of them mentions that those 33 cases are out of more than 3,500 SEC employees. That's less than 1%, versus research that suggests that 25% of all employees spend time surfing for porn.
Why omit these clearly relevant details from this story? I can only guess that a completely fresh story with the word "porn" in the headline is a much better sale than a warmed-over memo that rehashes a months-old story.
There were some later, lower-profile reports that drew these obvious connections. The New York Daily News, for example, even asked the SEC about the connection between the porn report and the Goldman Sachs complaint, and recent Pulitzer winner Pro Publica pointed out that they reported on the SEC's porn problem in 2008.
The SEC porn story is an outrage, but the fact that the Republicans equate it to the Goldman Sachs fraud complaint is a greater outrage, and the media's complicity trumps both. People often try to discern a partisan bias in the media, but this is further evidence that, if there is a media bias, it's towards clicks and eyeballs, and the almighty dollar.
Have a tip we should know? tips@mediaite.com