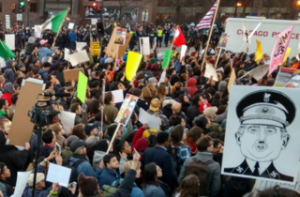 Over 50,000 people signed a petition to get Donald Trump's rally at the University of Chicago canceled and they sort of got their wish. Trump just canceled his rally over "security concerns" because there are too many fights breaking out as protesters infiltrate the pavilion.
The fights are not altogether out of the ordinary, as Trump's rallies have become increasingly violent, especially toward protesters and journalists.
Here is video from CNN of the moment the announcement came out. Note the protesters and the fights:
The people of Chicago don't seem to like Trump… pic.twitter.com/624Q20mQHG

— Anonymous (@YourAnonNews) March 11, 2016
Crowd now chanting "Bernie! Bernie!" at Donald Trump's postponed rally in Chicago. pic.twitter.com/UoX27nVS2I

— Bill Ruthhart (@BillRuthhart) March 12, 2016
Bernie support at the rally! #TrumpRally pic.twitter.com/S55z0ullpt

— Heather (@wildflowerfever) March 11, 2016
Trump supporters leaving UIC after he canceled are on the left and protestors are on the right pic.twitter.com/HiehdUP3EI

— Jessyca Malina (@jessycamalina) March 12, 2016
Protester on stage at the Trump rally in Chicago, no audio. Trump just canceled the event https://t.co/NRenMG3051 pic.twitter.com/TofTqUHOkK

— Brandon Wall (@Walldo) March 12, 2016
Protest continues outside #TrumpRally in Chicago:https://t.co/JYogHcVPqR pic.twitter.com/rJLOSu3cFa

— WGN TV News (@WGNNews) March 12, 2016
Chicago is LIT tonight!!!! #TrumpRally UIC pic.twitter.com/3MYC8Iy1nV

— De-pro9 (@Deprogrammer9) March 11, 2016
Basically the 5 bottom sections of the stands in this shot are filled with protesters: pic.twitter.com/h6bXnSNQPM

— Jeremy Diamond (@JDiamond1) March 12, 2016
This is a breaking post that will be updated as details become available.
UPDATE — 7:45 p.m. EST
Statement from the Trump campaign:
Mr. Trump just arrived in Chicago and after meeting with law enforcement has determined that for the safety of all of the tens of thousands of people that have gathered in and around the arena, tonight's rally will be postponed to another date. Thank you very much for your attendance and please go in peace.
UPDATE — 7:57 p.m. EST
Here is a live stream courtesy of NBC Chicago:
UPDATE — 8:32 p.m. EST
More video from the announcement of the cancelation:
[image via screengrab]
For more from Lindsey, follow her on Twitter.
b
Have a tip we should know? tips@mediaite.com