BuzzFeed Defends Reporter After Candace Owens Says They're Working on 'Hit Piece' (UPDATED)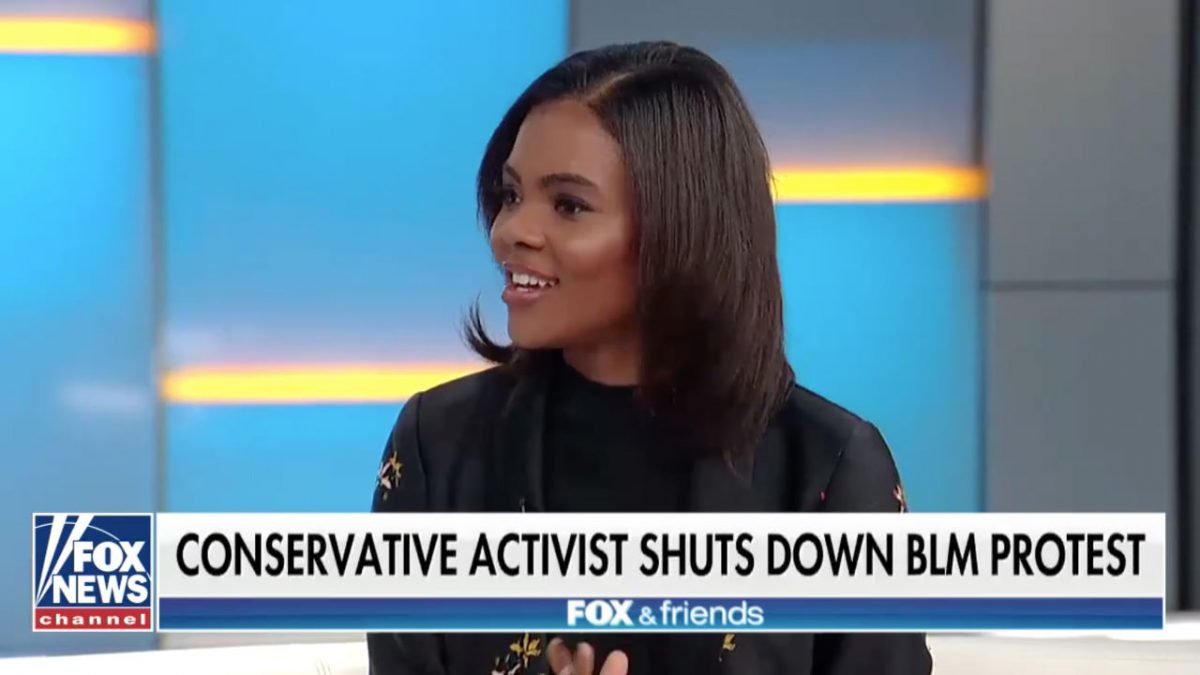 Candace Owens, the Turning Point USA official who came to national prominence after getting a shoutout from Kanye West, called out BuzzFeed today and claimed they're working on a "hit piece" about her.
Owens has met with West since his comments about her, which eventually reached the ears of President Trump, who thanked both West for his support and Owens for "having a big impact on politics in our Country."
Owens claimed that BuzzFeed has been "attempting to threaten current college girls" she worked with for information on on a story:
So @buzzfeed has spent the last week attempting to threaten current college students that I used to work with into giving statements about me. They told these young girls that if they didn't give statements, they would print their names (effectively a threat to ruin their lives).

— Candace Owens (@RealCandaceO) May 15, 2018
All of these young girls suffered through some sort of mental health condition (anxiety, depression, anorexia, etc). They are now being threatened by @BuzzFeed who is working on a hit piece. This is absolutely disgusting behavior from leftist media.

— Candace Owens (@RealCandaceO) May 15, 2018
BuzzFeed News reporter Joe Bernstein confirmed Owens is talking about a report he's been working on. But he denied the claims made by Owens in the Tweet:
Candace is referring to a story I'm working on, and the claims in this this tweet are completely false https://t.co/rnBihYmpNb

— Joe Bernstein (@Bernstein) May 15, 2018
You are a despicable creature for contacting and threatening a bunch of young women. Never contacted me once. It is abhorrent behavior to threaten the livelihood of college students for having been barely associated with me, years ago in a non-political setting. https://t.co/2mBQXLVXca

— Candace Owens (@RealCandaceO) May 15, 2018
Tonight the BuzzFeed News Twitter account responded to Owens, defending Bernstein's reporting and saying Owens is "mislead[ing] her followers" by smearing him:
This has now been retweeted by @DonaldJTrumpJr. In the normal course of reporting, @Bernstein has been reaching out to subjects for comment. Candace knows this but would rather mislead her followers by smearing a journalist for doing his job. https://t.co/bVjhydmD6d

— BuzzFeed News (@BuzzFeedNews) May 15, 2018
Owens continued slamming BuzzFeed in response and said "you do not scare me":
Buzzfeed now verifying that it is "their job" to threaten to publish names of private young women who refuse to give quotes about their political targets.
Btw- these young girls are all liberals who voted for Hillary. I am trying to get them to come forward publicly about this. https://t.co/tMDh3IY6Xj

— Candace Owens (@RealCandaceO) May 15, 2018
For the record @BuzzFeed, you do not scare me. I will not submit to your version of what I should be as a black woman in this society, or else feel the whip of a political hit piece.

I am free & I choose to be a PROUD supporter of President Donald J. Trump. #FreeThinker

— Candace Owens (@RealCandaceO) May 15, 2018
And yes, as BuzzFeed noted above, this has reached the attention of Donald Trump Jr., who has made a point of saying that he too likes the way she thinks.
UPDATE –– 7:34 pm ET: Bernstein's report has dropped and, well, it's a doozy.
It turns out that less than two years ago Owens ran a website called Degree180 which had a decidedly different outlook on Trump than she does now:
Owens, suddenly a new face of the American right, was less than two years ago the CEO of an online publication that frequently mocked then-candidate Trump, including conducting a mock "investigation" into his penis size. (The story determined that it was likely very small.) And in a 2015 column for the site lambasting conservative Republicans, Owens wrote that it was "good news" that the "Republican Tea Party…will eventually die off (peacefully in their sleep, we hope.)"
Wow.
[image via screengrab]
— —
Follow Josh Feldman on Twitter: @feldmaniac
Have a tip we should know? tips@mediaite.com
Josh Feldman - Senior Editor