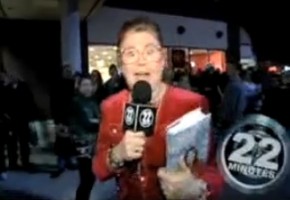 Hey did you hear about Sarah Palin's book tour? Turns out that the former VP candidate and Alaskan Governor is on some sort of press tour and is trying to get in the news. During a book signing event in Columbus, Ohio, Canadian Comedian Mary Walsh ambushed Palin with camera crew and microphone to seek her thoughts on the Canadian health care system (and ostensibly embarrass her as well.)
While the event security detail prevented a meaningful interview, Palin did provide some basic comments consistent with her conservative position. While many websites are now presenting this video clip as evidence of her naivete, the video actually acquits Palin quite well, and makes the comedian look far more foolish than her target. Perhaps more stunning is that this clip has received a lot of play on numerous news sites, despite the fact it comes from a comedy show.
Some background. This Hour Has 22 Minutes, is described by many as the Canadian Daily Show. Comedian Mary Walsh plays one of the characters named "Marg Delahunty" — a strident conservative who is known (in Canada at least) for buttonholing politicians and conducting satirical interviews. As she approaches the table where Palin is signing books she yells "I just wanted to ask you if you have any words of encouragement for Canadian conservatives who have worked so hard to try to diminish the kind of socialized medicine we have up there."
Security quickly ushers Walsh away, but not before Palin replies "Keep the faith. Because common sense conservatism can be plugged in there in Canada too. In fact, Canada needs to reform its health care system and let the private sector take over some of what the government has absorbed."
What's not clear about this segment is the funny. Everything about it is rather predictable, even the canned laughter throughout. What IS clear about the clip is the way that its been presented via many websites. The Huffington Post presents the clip with the headline "Palin Tricked By Comedian Again, Says Canada Should Drop Public Health Care." Raw Story's headline claims "Palin tells Canada to get rid of public health care." Google News results on "Marg Delahunty" provide more examples.
Sarah Palin does have a history here. In November of last year she unwittingly took a prank call from a well-known Canadian comedian posing as French President Nicolas Sarkozy. In the infamous six-minute call, Mrs. Palin discussed politics and the dangers of hunting with Vice President Dick Cheney, all the while being clueless she was not indeed speaking with the French president.
The segment is best viewed as evidence of one's predisposition towards Sarah Palin. If one sees her as a intellectual lightweight, you might find this to be humorous. If one sees her as the target of unfair media attacks – then this will definitely support that view.
Have a tip we should know? tips@mediaite.com