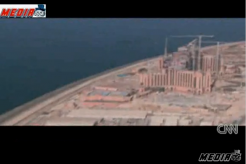 Black Friday may take on a whole new, scarier meaning today. Depending how closely you were paying attention to the news (or Twitter) between yesterday's turkey courses you may have heard whispers of Dubai. The news is not good, and you are likely going to be hearing a lot more about it today. Here's a short overview: Asian and European markets took at huge tumble yesterday after Dubai announced that "it wants investors to agree a debt standstill at Dubai World, its flagship holding company." How much is that debt? Oh, just $80 – $90 billion.
From the NYT:
Dubai's move — the global high-finance equivalent of a homeowner asking the bank to allow six months of skipped mortgage payments, presumably because the homeowner was out of cash — sowed fear of a contagion of instability that could roil markets that are only now recovering from the near cataclysm of the last year.

"This has sent shockwaves through the markets, even though the problems in Dubai have been known about for two years," Emil Wolter, a Hong Kong-based strategist at the Royal Bank of Scotland, said by phone from Paris.
It is not yet clear how badly U.S. markets will be hit since they were closed yesterday for the Thanksgiving holiday. (Update: The dropped 193 points.) The video report below from CNN further explains what's going on and why a country with the world's biggest shopping mall — and now one of the world's biggest debts — is having such a huge effect on the world's markets.
Related:
What Is Dubai World? [CNN]
Dubai's financial crash mirrors that of Florida [FT]
Last Month:
Critical test of Dubai's credit worthiness – Dubai `s 80 Billion Dollar debt pile [7StarDubai]
Have a tip we should know? tips@mediaite.com