Carolyn McCarthy On Assault Weapons: 'How Many People Have To Be Killed Before We Do Something?'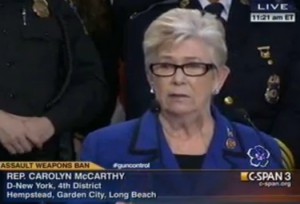 At a press conference in the Dirksen Senate Office Building Thursday morning, Senator Dianne Feinstein (D-CA) introduced an assault weapons ban that figures to improve on the 1994 ban that she co-authored, and which expired in 2004. One of the speakers at that press conference was Rep. Carolyn McCarthy (D-NY), whose husband was killed in a 1993 mass shooting, and whose son was wounded in that same incident. Rep. McCarthy spoke passionately about the gun massacres that have continued to occur since then, asking "What's wrong with all of us? How many people have to be killed before we do something?"
"I've watched the slaughter of so many people, and I've met with so many victims over the years," Rep. McCarthy said. "In Congress, nobody wanted to touch the issue. The last several years, the massacres were going on more and more. and going through it, I kept saying, 'What's wrong with all of us? How many people have to be killed before we do something?"
"I thought for sure, after Virginia Tech, we would get something done," she continued. "Aurora. But something happened in Newtown. The people of America said 'How could this happen? How could this happen to our children?'"
McCarthy called on gun owners for help. "These are good, law-abiding citizens," she said. "They want to hunt. They want to go duck hunting. And the guns they use, duck hunting, you're only allowed three bullets. Deer hunting, depending what state you're in, only allow five bullets. Most hunters will tell you, if you don't get it on the first try, you're probably not going to get it on the second one."
"Yet, we have these machines," she continued. "We have the large magazines that can take down 20 children in seconds."
Rep. McCarthy also acknowledged the need to reduce gun violence overall, and noted that over a thousand Americans have been killed by guns since Newtown. In fact, according to news accounts, there have been 1,187 such deaths since then, including 21 children. "This is only the beginning," she said.
That Carolyn McCarthy had to stand at that press conference at all is evidence of a deep dysfunction in our country. She was moved to run for Congress by the murder of her husband, Dennis McCarthy, and the wounding of her son, Kevin, by a mass murderer in 1993. Anyone who remembers that terrifying incident has got to be shaking their head that, twenty years later, the state of gun regulation in our country is worse than ever. That shooter killed six people and wounded nineteen others on a rush-hour Long Island Railroad train, using a semiautomatic handgun with 15-round magazines. He carried 160 rounds of ammunition onto that train with him.
As Rep. McCarthy noted, since the day those 25 people were shot, America has seen tragedy after tragedy, culminating in the murders of twenty children and six educators. The assault weapons ban shouldn't be the most we can do, it should be the least.
Here's video of Rep. McCarthy's remarks, from C-Span 3:
Have a tip we should know? tips@mediaite.com