Limbaugh: 'Every Man In Hillary Clinton's Life Has Sent Her Out To Lie For Him'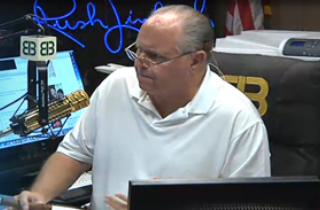 Conservative radio host Rush Limbaugh had harsh words for both Sec. Hillary Clinton in a segment on his program on Thursday after he was accused of being unfairly critical of her by Fox News Channel contributor Jehmu Greene. He noted, after being accused of being unfairly critical of women in general, that it is not Clinton's political opponents but her allies that have abused her. "Every man in Hillary Clinton's life has sent her out to lie for him," Limbaugh charged. "The Democrat party treats Mrs. Clinton like an abused wife."

RELATED: Limbaugh Tears Into Hillary Clinton's 'Bullsh*t' Testimony: 'What Did She Do To Save Anybody?'
On Fox News on Thursday, Greene accused Limbaugh of "petty sniping" at Clinton over the content of her testimony before Congress regarding the Benghazi attacks.
"I think there is no strong woman leader that could make him happy," Greene said. "Hillary Clinton could save him from drowning, and he would still call her a 'femi-nazi' because she was strong enough to lift him out of the water."
Limbaugh took issue with much of what Greene said, but he offered a though experiment instead of a direct rebuttal.
"You constantly tell us that the Democrat party is where women are respected," Limbaugh began. "The Democrat party is where opportunity, and equal pay, and equal opportunity for women takes place. That conservatives like me conduct wars on women."
"You know something that I notice? Every man in Hillary Clinton's life has sent her out to lie for him," Limbaugh said. "Every powerful, Democrat man depends on Hillary Clinton going out and lying for him."
He said that both President Barack Obama and Bill Clinton have benefited from Clinton's mendacity on their behalves.
"The Democrat party treats Mrs. Clinton like an abused wife," Limbaugh concluded. "It's no wonder they're constantly dangling carrots for her."
Listen to the segment below via The Rush Limbaugh Show:
h/t Daily Rushbo
> >Follow Noah Rothman (@NoahCRothman) on Twitter
Have a tip we should know? tips@mediaite.com