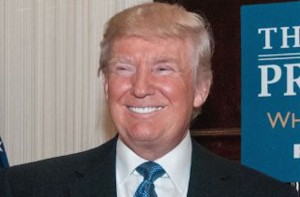 Donald Trump knows how to use Twitter.
He has expertly harnessed the social media platform to amplify his message and harness the zealous enthusiasm of his fans. The 140-character limit lends itself to his succinct and uncomplicated style of assessing people's worth ("loser") and clarifying his policy positions ("we will win"). In particular, he has made effective use of the retweet functionality, broadcasting comments, insights, and memes from his fan base, taking offerings from individual fans and sharing them with the whole Trump crew. Retweets have an additional advantage: When these tidbits turn out to be doctored, spurious, or dubiously sourced, the retweet arrangement allows him to backpedal every time. He didn't write it, after all.
But there's one function on Twitter that The Donald has not made much use of. In the nearly seven years that he has been using Twitter, he has apparently only "liked" 59 tweets — 54 of which are from publicly-viewable accounts
Recently our own J.D. Durkin noted that Trump only follows 49 people on Twitter, a paltry number considering his eminence in the political-media landscape. Given that Trump has made such scant and selective use of both the "follow" and the "like" button, it can be revealing to take a look the few, gleaming examples that he has chosen to single out.
There isn't much of an agreed-upon definition for the meaning of the Twitter like. It can indicate an endorsement that's slightly less enthusiastic than a retweet, a way of signaling: "Yes, this is a good tweet, but it's not RT-good." It can also be a useful way of bookmarking tweets to make it easy to recover them from the bottomless timeline.
It is of course possible that Trump liked and un-liked any number of tweets over the years. It is also possible that Trump only recently liked some of these tweets, which are in some cases years old. But, as of Jan. 29, these are the tweets he has chosen to keep digitally laminated for posterity.
It may surprise nobody that of the 59 tweets Trump has liked, 6 were written by Donald Trump himself:
Happy Thanksgiving to all. Have a great day and look forward to the future. We will MAKE AMERICA GREAT AGAIN!

— Donald J. Trump (@realDonaldTrump) November 26, 2015
@paulteutulsr. Thanks Paul – we miss you!

— Donald J. Trump (@realDonaldTrump) March 13, 2013
Let Pete into the Hall of Fame- http://t.co/6ksLuFzRHw @PeteRose_14

— Donald J. Trump (@realDonaldTrump) December 11, 2013
Putin is having such a good time. Our President is making him look like the genius of all geniuses. Do not fear,we are a NATION OF POTENTIAL

— Donald J. Trump (@realDonaldTrump) September 11, 2013
Some of his own liked tweets take the form of a hall of mirrors reflecting and re-reflecting Trump's self-regard, as when he likes a tweet he wrote, in which he celebrates a fan for having created a humorous video ode to his speeches:
Done by a real fan! #TRUMP https://t.co/R7fzPgcwmx

— Donald J. Trump (@realDonaldTrump) December 5, 2015
…or when he likes himself thanking a fan for, in turn, loving him:
"@jean_penny: @realDonaldTrump I love love Donald Trump!" Thanks!

— Donald J. Trump (@realDonaldTrump) September 11, 2013
Some of liked tweets make sense in the context of the time in which they were tweeted, as when he liked a link to a petition to stop the Iran deal last year when Tea Party groups were rallying against it:
Find out how you can help #StopIranDeal: http://t.co/Ty0N5kZJT9 #teaparty

— Jenny Beth Martin (@jennybethm) September 20, 2015
…or the time just last week when he gave a thumbs-up to Sarah Palin as she was en route to Oklahoma to stump for him.
Trading in the beautiful snow of Iowa for the red dirt of Oklahoma as planned, despite what the media is try's no… https://t.co/wpZ1qeXWb4

— Sarah Palin (@SarahPalinUSA) January 20, 2016
Some times he likes to commemorate a meeting:
Make America Great Again! #Trump2016 pic.twitter.com/1h5j4DZDgy

— Willie Robertson (@williebosshog) January 22, 2016
…or enshrine a favorable poll:
REUTERS ROLLING: TRUMP 39%, CRUZ 14.5%, BUSH 10.6%, CARSON 9.6%, RUBIO 6.7%… MORE… https://t.co/nRhtbzcqP9

— DRUDGE REPORT (@DRUDGE_REPORT) January 13, 2016
He liked a fan who seemed to jump to his defense when a columnist was gearing up to write an unflattering piece:
@alexmassie @realDonaldTrump Should have built a cricket pitch instead of a golf course?

— Paul Frame (@PaulFrame85) July 9, 2013
He tips his hat when followers repeat his words:
I know a lot, but one thing I know is that I don't know everything. ~ Donald Trump

— kata kata bijak (@kata2bijak) July 19, 2013
…even if the words aren't strictly speaking his:
@realDonaldTrump zio ciao coraggio si infatti io insisto sempre ma perchè non mi contatti? -Winston Churchill-

— marcello paterna (@PaternaIt) May 16, 2014
Some of his likes seem to be humble nods to random followers who tweet encouraging and complimentary things:
YOU NEED A FINANCIAL HERO – read up about DONALD TRUMP http://t.co/zBfSNKfumS pic.twitter.com/mhYOQCdB7s

— Glen Greenway (@WINEFUNDI) February 20, 2014
@realDonaldTrump I just bought a Trump mattress and it is presidential

— george (@CaptainBlob) September 18, 2013
@realDonaldTrump well you'd hate my tattoos but I'll still vote for you in 2016!!!

— Lise-Ann Davis (@nnaesil) September 14, 2013
@realDonaldTrump congartulations mr.Donald trump on your induction into the wwe hall of fame 2013…..im a huge fan of you sir

— nandanmuralidhar (@nandan_1) April 12, 2013
@realDonaldTrump Simple. Hustle. Respectful. Smart. Knowledgeable. Passionate. Visionary. Graceful. Powerful. Observer. I worship you sir

— Aditya Taday (@AdityaTaday) October 13, 2013
@realDonaldTrump and @piersmorgan on the same show!! Idk what to think!! 2 of the most extremely intelligent and powerful men. #apprentice

— Kris Koz (@koznneffect) April 1, 2013
@realDonaldTrump is the man! @TheApprentice9 is the best show on TV!

— JakeBob (@Jake_Clegg81) May 16, 2013
@FoxNews Got nice "Thank You!" from @realDonaldTrump Re: ppl should know how much Trump improved/gave NYC like Rebuilding Wollman Rink.

— RG™ (@DEN_RG) July 3, 2013
@realDonaldTrump RIGHT AS USUAL, JAJA.

— Jose E. Pedreira (@jepedreira) March 25, 2013
If the government would listen to @realDonaldTrump then our problems would be solved #truth

— Andrew Hilton (@a_hilton94) November 16, 2012
But Trump has liked insults as well:
@StrongChestwell @realDonaldTrump @KarlRove… for one so self-posessed, you aren't very self-aware. You've hurt the GOP as much as anybody.

— Chest Strongwell (@StrongChestwell) March 2, 2013
…including a decidedly unflattering short animation that depicts a vision of the inside of Trump's head. The video features a bull evacuating massively into an apparatus that converts its feces into tweets that come out of Trump's mouth:
Inside the mind of @realDonaldTrump. https://t.co/mE6hTsfVGE

— Sabine (@ThatSabineGirl) May 1, 2013
In one case, Trump liked a tweet in which a follower apparently snapped a photo of himself and sent it to Trump:
@realDonaldTrump WHAT MAKES HER LOOK GUILTY IS THE WEAK DEFENSE THAT SHE HAS REPRESENTING HER. pic.twitter.com/hiASLVCsxK

— hugo levi (@immanuelbenlevi) May 3, 2013
Trump's Christian faith has come under scrutiny, but he liked this tweet, which was originally posted March 1, 2013. The significance to Trump of this quote on that day is unclear.
"@LovLikeJesus: I pray that the Lord, who gives peace, will always bless you with peace. May the Lord be with all of you too. -Thess 3:16"

— Julian Chavez (@chavezjulian) March 1, 2013
He likes the musings of media personalities:
He really likes the Trump ties.. I dont know what it is… sitting on train.. let me go ask him.. at least they inspire him to dress up!

— Mika Brzezinski (@morningmika) May 19, 2010
…though he has a particular fondness for Piers Morgan:
The Force is with me, not them. https://t.co/vAXx0z6a7B

— Piers Morgan (@piersmorgan) December 15, 2015
Even America's supposed finest brains are rendered unbelievably dumb when it comes to guns. https://t.co/ET8Mufn9zT

— Piers Morgan (@piersmorgan) December 6, 2015
OK, OK, I'll have a bloody cornetto.#jubileeconcert

— Piers Morgan (@piersmorgan) June 4, 2012
…and Bret Baier:
'Twitter Trivia' answer: Treating state symbols with disrespect.Congratulations to @dlb703 for winning this week!

— Bret Baier (@BretBaier) June 19, 2012
Trivia: At what grade level does your congressman speak? According to the Sunlight Foundation the avg lawmaker speaks at what grade level?

— Bret Baier (@BretBaier) May 22, 2012
He likes tweets from or about members of his family:
So proud to be out on the campaign trail with @realDonaldTrump – thanks for an amazing night #Biloxi #Trump2016 pic.twitter.com/RmATSWmx8m

— Eric Trump (@EricTrump) January 3, 2016
@DonaldJTrumpJr @realDonaldTrump what an adorable kid

— Jimmy Kimmel (@jimmykimmel) December 19, 2015
"@jimmykimmel: @DonaldJTrumpJr @realDonaldTrump what an adorable kid" Thanks Jimmy, I have to agree.

— Donald Trump Jr. (@DonaldJTrumpJr) December 19, 2015
Amazing!!! "@KimmieDawn365: @DonaldJTrumpJr What my husband dreamed would happen to the furbies in our lives http://t.co/f9pIzr8m"

— Donald Trump Jr. (@DonaldJTrumpJr) December 31, 2012
He likes tweets that acknowledge his recent or upcoming appearances on TV:
Tonight on The Factor: Trump weighs in on last night's Democratic debate — http://t.co/Vy74cEtnzE Video preview: https://t.co/ILTyFPaiOO

— Bill O'Reilly (@oreillyfactor) October 14, 2015
@hillarysusans @realDonaldTrump I had so much fun doing that interview – so different from the usual OTR

— Greta Van Susteren (@greta) April 4, 2015
… Chuck Todd, Josh Kraushaar, Nancy Gibbs, John Goodman, Donald Trump and Leigh Gallagher #morningjoe

— Morning Joe (@Morning_Joe) February 6, 2014
…or even TV segments on which he apparently did not appear:
Feel Better Sitting On The Sidelines? What @@TDAmeritrade Chmn. Joe Moglia Thinks About That On SquawkCNBC Tomorrow At 8am ET #stocks

— Squawk Box (@SquawkCNBC) May 9, 2012
Sometimes he just likes it when he's mentioned in the news:
How I ended up accidentally spending 36 hours on the plane and by the pool with Donald Trump. My story: http://t.co/9wxvzySONo

— McKay Coppins (@mckaycoppins) February 14, 2014
This Week: .@ChrisChristie on a possible @realDonaldTrump presidential … – http://t.co/rhfWRZ6MKL #NewsInTweets pic.twitter.com/JoEQqeL0KA

— World News In Tweets (@NewsInTweetsCom) June 14, 2015
He likes tweets that are related to his various projects and interests, such as his hotels, The Apprentice, and the Miss Universe contest:
10 years ago today I won the 1st season of the Apprentice… Thank you realdonaldtrump 4 a life… http://t.co/KepHkoLYJP

— Bill Rancic (@BillRancic) April 15, 2014
"@fadilberisha: Another great shot @MissUSA @FlavianaMatata @Swanbird pic.twitter.com/TGqp81bi" great shoot!!And still going #hellocello #Fadil

— Olivia Jordan (@MissUSA) July 13, 2012
Congratulations on your engagement anniversary, @brian_woodland. We look forward to celebrating with you. Enjoy your dinner at @LeCirqueNYC.

— Trump SoHo (@TrumpSoHo) February 5, 2014
He liked a tweet that was fundraising for golfer Ernie Els's foundation to help people with autism:
Guys I need your help. Retweet and tweet #RBCELS to help me raise money for @ElsForAutism. Help me make a difference.

— Ernie Els (@TheBig_Easy) April 17, 2014
As far back as 2012, he signaled the direction his eventual campaign would take, by liking a series of tweets that read now as familiar touchstones of his candidacy:
! @realDonaldTrump explains #Obamacare perfectly. pic.twitter.com/eHw1DO27IC

— Carl Quance (@CinderellaMan2) April 19, 2014
Daily Briefing: Minority babies are now majority in United States http://t.co/fheY8AUi

— Bill O'Reilly (@oreillyfactor) May 17, 2012
He likes tweets that allow him to express his dislike for Barack Obama:
President Obama's campaign releases new ad calling Gov. Romney a Job-Killing 'Vampire': Watch this new ad titled… http://t.co/aBvWglm0

— Greta Van Susteren (@greta) May 14, 2012
…his antipathy for the Occupy movement:
@OccupyWallSt @OccupyWallStNYC @realDonaldTrump if it weren't for these occupiers, Donald, I wouldn't have a job!!! #OWS #S17

— Capt. Edward Winski (@WinskiSec) September 18, 2012
…and his much-documented loathing of wind turbines:
@realDonaldTrump i hope after romney gets elected he surrounds the kennedy compound with wind turbines

— steven daylight (@thislyricisit) September 19, 2012
Trump even liked a satirical bit from 2013, which made the connection between Trump's birtherism and Ted Cruz. The link in the tweet is dead, but it is archived here. (It is possible that Trump only liked this years-old tweet recently, as he wasn't making much noise about Cruz's Canadian birth back in 2013.)
Donald Trump issues statement on Ted Cruz birth certificate http://t.co/8m6DKJI38A

— LAR (@Ross_7_7) August 24, 2013
And then there's this:
First drivers license pic.twitter.com/HYGpmnig

— Debbie Bearce (@drbearce) December 9, 2012
——
Follow Sam Reisman on Twitter. He has liked 351 tweets.
Have a tip we should know? tips@mediaite.com