Cenk Uygur On Similarities Between Occupy Wall Street And Tea Party Movements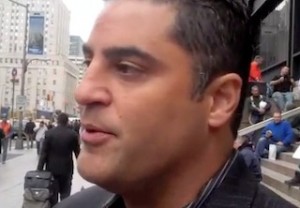 Last Friday, I made my way down to Zuccotti Park to meet up with Current TV's latest host, Cenk Uygur (who was taping a week's worth of shows there), for a quick discussion about a variety of topics: the Occupy Wall Street movement, the role of corporate media in its coverage of the protest, and when and what we can expect to see his new Young Turks show on Current. A series of unfortunate events conspired to delay the interview, which lessened the total time to just a few minutes. However, Uygur packed a lot of observations about the OWS protests, the Tea Party, and the media into our short visit.
In our brief interview, Uygur discussed the media portrayal of Occupy Wall Street (it's getting better), how anger towards corporations isn't the thing (its corporate cronyism), and how the OWS movement is very similar in spirit to that of the Tea Party movement. He also revealed that his new show should be launching on Current in about a month, and that while he and Keith Olbermann clearly share a similar political point of view, there will be differences in their two shows. In particular, Uygur is looking to have more dissenting opinions on his program, and is actively hoping for more conservative guests with which he can engage in a serious discourse.
Working in television for a number of years engenders a certain cynical approach, to both fellow media peers and viewers. On-air personalities are often the most jaded of the sort, who often bring a strange mix of egomania alongside an over-reliance on a writer/producer to help him or her look good. Uygur was quite the opposite, however. Perhaps his humble start as a YouTube star, or his somewhat unceremonious departure from MSNBC, combined to make Uygur a remarkably down-to-earth and likable guy.
Of course it helps that he was surrounded by (mostly) like-minded people at Zuccotti Park, though there was one rabble rousing Wall Street protester, "Kenny," who considered Uygur's taping of material for his new show to be "pornography," and did everything in his power to disrupt the taping. No worries for Uygur, he didn't complain and just went about his business.
Have a tip we should know? tips@mediaite.com