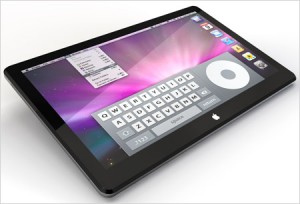 The Consumer Electronics Show — "CES" to its friends — will be going down in Vegas starting on January 7th. Despite the three days' wait, tech blogs are buzzing with expectation. Preemptive trend guesses are aplenty — recession-friendly gadgets, smarter cars.
But the informed and the wildly speculating seem to be in agreement on one thing: tablets will be a hot commodity at this year's CES.
BusinessWeek ("'Tablets' Aplenty Will Come Out at CES This Week"), Telegraph.co.uk ("CES 2010: Gadget show begins 'year of the tablet'"), CNN ("8 Tech trends to watch this week at CES" — #1 is "tablets and midsize screens"), and many more are all about the tablet. Telegraph predicts that "dozens" of manufacturers will unveil tablets at the show:
Analysts at DisplaySearch expect the tablet computer market to be worth $3.5 billion by the end of the year, a significant figure for an emerging device category. "We're talking about a brand-new market," said John Jacobs, a senior analyst with DisplaySearch.

The tablet revolution is being driven by the growing ubiquity of wireless internet connections, and consumers' desire to surf the internet and watch videos on devices that are bigger than a smart phone, but smaller than a conventional laptop.
Tablets have been getting an extra dose of media hype lately thanks to as-yet-unconfirmed (though sourced) rumors that Apple will unveil a tablet that may or may not be called the iSlate at the end of the month. More recently, there's the even hazier rumor that Google will scoop Apple by announcing their own tablet at CES.
And then, there's the obligatory Twitter buzz:
(utterly speculative mockup of an Apple Tablet via TGDaily)
Have a tip we should know? tips@mediaite.com