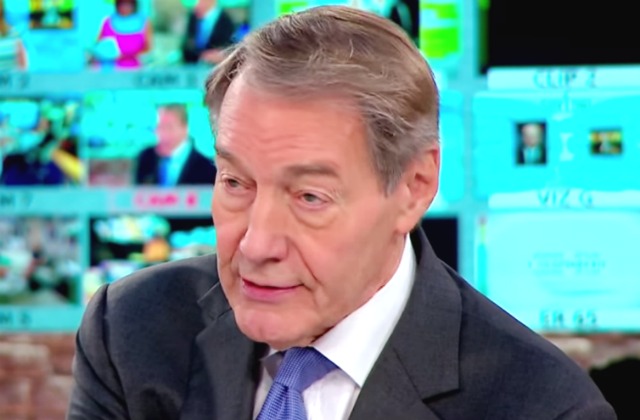 Eight women are claiming that longtime TV news veteran Charlie Rose made unwanted sexual advances towards them, which allegedly involved lewd phone calls, inappropriate touching, and nudity in their presence.
Rose's accusers spoke to Washington Post, which noted that there were "striking commonalities" when they recounted their interactions with Rose in the past. The women described inappropriate behavior from Rose which stretches from the 90s to 2011.
From the report:
Most of the women said Rose alternated between fury and flattery in his interactions with them. Five described Rose putting his hand on their legs, sometimes their upper thigh, in what they perceived as a test to gauge their reactions. Two said that while they were working for Rose at his residences or were traveling with him on business, he emerged from the shower and walked naked in front of them. One said he groped her buttocks at a staff party.
Some of Rose's accusers wished to remain anonymous for fear of his influence within the media. However, Reah Bravo, a former PBS intern and and one of three women who spoke on the record, said she experienced several moments where Rose made unwanted advances towards her.
"It has taken 10 years and a fierce moment of cultural reckoning for me to understand these moments for what they were," said Bravo. "He was a sexual predator, and I was his victim."
Kyle Godfrey-Ryan, one of Rose's former assistants, told WaPo of multiple instances where Rose walked in front of her with no clothes on while she worked from his house. Godfrey-Ryan went on to describe several crude phone calls she took from Rose, and how she was fired when Rose learned that she spoke to an acquaintance about his behavior.
Here's what happened when she tried to report Rose's behavior:
She said she told Yvette Vega, Rose's longtime executive producer, about the calls.

"I explained how he inappropriately spoke to me during those times," Godfrey-Ryan said. "She would just shrug and just say, 'That's just Charlie being Charlie.' "

In a statement to The Post, Vega said she should have done more to protect the young women on the show.

"I should have stood up for them," said Vega, 52, who has worked with Rose since the show was created in 1991. "I failed. It is crushing. I deeply regret not helping them."
Megan Creydt affirmed parts of Godfrey-Ryan's account, and she also offered her recollection of a time when Rose touched her mid-thigh while they were driving through New York City.
When asked about the allegations, Rose offered this statement:
"In my 45 years in journalism, I have prided myself on being an advocate for the careers of the women with whom I have worked. Nevertheless, in the past few days, claims have been made about my behavior toward some former female colleagues.

It is essential that these women know I hear them and that I deeply apologize for my inappropriate behavior. I am greatly embarrassed. I have behaved insensitively at times, and I accept responsibility for that, though I do not believe that all of these allegations are accurate. I always felt that I was pursuing shared feelings, even though I now realize I was mistaken.

"I have learned a great deal as a result of these events, and I hope others will too. All of us, including me, are coming to a newer and deeper recognition of the pain caused by conduct in the past, and have come to a profound new respect for women and their lives."
UPDATE – 5:45 p.m. EST: In light of tonight's news, PBS is suspending Rose's show with them.
PBS is suspending its broadcast of Charlie Rose: "PBS was shocked to learn today of these deeply disturbing allegations. We are immediately suspending distribution of 'Charlie Rose.'"

— John Koblin (@koblin) November 20, 2017
[Image via screengrab]
— —
>> Follow Ken Meyer (@KenMeyer91) on Twitter
Have a tip we should know? tips@mediaite.com