Charlie Sheen Got A Police Motorcade In D.C., There's Now An Investigation To Figure Out Why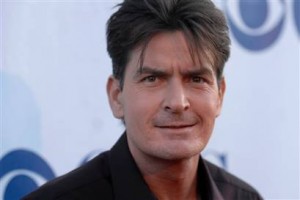 The town of Washington D.C. is filled with important people doing important things. The other night, Charlie Sheen was there too. A lot of times, these important people get police escorts during their travels through the city. The other night, Charlie Sheen did too. In a fairly hilarious article, the Washington Post is trying to find the answer to the most obvious question: why?
The motorcade escorted Sheen through from the airport to DAR Constitution Hall for the latest performance of his "Violent Torpedo of Truth: Defeat Is Not an Option" tour which he was nearly an hour late for, speeding through the streets at 80 mph.
Hmmm. Maybe he needed the escort because, if he didn't get there soon, he wouldn't have enough time to announce the tour's full name. He'd have to call it the "Violent Torpedo Tour" or the "VToTDINaOT" or something like that. Clearly neither name would have been worthy of what I can only assume was a night of amazing entertainment. Isn't that a good enough reason, Washington Post?!
Apparently not:
"'Citizens of the District don't want to see their police force used to escort private citizens and that Charlie Sheen, of all people, is getting a personal escort,' said D.C. Council member Phil Mendelson (D-At Large), chairman of the committee that oversees police.

Police Chief Cathy L. Lanier did not reply to e-mailed questions. Sheen's publicist and tour promoter said they had no answers. And a spokeswoman for Constitution Hall said the venerable venue had nothing to do with the actor's commute.

'This entire matter is under investigation,' D.C. police spokeswoman Gwendolyn Crump said Thursday, declining to answer questions about the escort.
But, could this be something more than just a gross misuse of city resources? Perhaps. No one's answering the Post's questions and there's also an example of the 21's century's conspiracy smoking gun: a deleted tweet. At the time, Sheen tweeted "in car with Police escort in front and rear! driving like someone's about to deliver a baby! Cop car lights #Spinning!" That tweet is now gone. But, why? It's basically like the 18 minute gap on the Watergate tapes. What sinister secret is hidden in that tweet?
The Post article is pretty amazing as it recounts the amount of people trying to pass the buck in explaining this silliness. It makes for a great read (I know, something about Charlie Sheen that's still interesting? I'm shocked too) even though it misses out on the most obvious explanation.
Clearly Charlie Sheen is a visiting ambassador from an alien planet. Duh.
Have a tip we should know? tips@mediaite.com