Chris Christie Crashes Bachelorette Party After Getting Rejected from Tea Party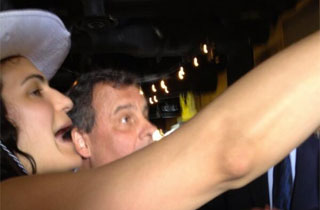 This past weekend, Gov. Chris Christie (R-NJ) pulled out his inner Margo Channing after getting a tepid reception at a state Republican Party dinner in Tennessee, leaving said dinner for a bar, and then crashing a bachelorette party like a lonely out-of-towner recently separated from his wife.
We're talking real tepid, here: he was supposed to give the keynote address at the Republican megafundraiser Statesmen Dinner in Nashville, only to be met by a chorus of dissent from his own party, with the president of the local Tea Party declaring that Christie and his scandalous aura was "extremely unfortunate" for the state GOP. Christie, sensing that he was Not Welcome, left early to find people who would like him, damnit, because he's a beautiful scandalous butterfly who will not be pinned down.
A reporter at the Tennessean caught Christie and Gov. Bill Haslam (R-TN) at Puckett's Grocery and Restaurant, in the middle of Christie's state-wide Tennessee Tour That Has Absolutely Nothing to Do With Running in 2016, Except Maybe It Does. (His exact words: "I've said to folks, I'm certainly thinking about it.") While trying to avoid hecklers reminding him of Bridgegate, he found a better distraction: crashing a party thrown by Jessica Levy, "a 25-year-old New York woman in a white cowboy hat who was there for her bachelorette party with a group of friends in pink 'Jessica's Last Rodeo' tank tops."
Granted, it was a publicity trip (Levy told the Tennessean that the governor was followed by a throng of cameras), but so far there's no word whether Christie put on a feather boa and started hollering "Sweet Home Alabama" on the bartop.
[h/t The Huffington Post]
[Image via @AndrewSeidman/Philadelphia Inquirer]
—
>> Follow Tina Nguyen (@Tina_Nguyen) on Twitter
Have a tip we should know? tips@mediaite.com