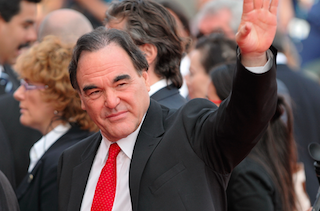 It looks like the the film adaptation of Glenn Greenwald's new book
is about to get some competition.
Last month we learned that Sony Pictures had obtained the rights to Greenwald's Edward Snowden book and would be turning it into a movie with some help from the producers of the James Bond series. Today, The Guardian reported that Oliver Stone will be making his movie about Snowden, based on a book by Greenwald's former colleague Luke Harding.
"This is one of the greatest stories of our time," Stone, who has made such presidential films as Nixon, JFK and W., said in a statement. "A real challenge. I'm glad to have the Guardian working with us."
Greenwald has been a loud critic of Harding's book, titled The Snowden Files: The Inside Story of the World's Most Wanted Man
, calling it "bullshit" back in February.
"They are purporting to tell the inside story of Edward Snowden but it is written by someone who has never met or even spoken to Edward Snowden," Greenwald said of Harding's account in an interview. "Luke came here and talked to me for half a day without [my] realising that he was trying to get me to write his book for him. I cut the interview off when I realised what he was up to."
Neither film has a cast or release date yet, but as with most competing projects, they will likely rush to be first in theaters in an attempt to provide the definitive account of the timely story.
[Photo via screengrab]
— —
>> Follow Matt Wilstein (@TheMattWilstein) on Twitter
Have a tip we should know? tips@mediaite.com